16 October 2013
In June Pinsent Masons' Shourav Lahiri predicted in GCR that Chinese investment in UK infrastructure would open the door for Chinese contractors.
Earlier this month GCR reported that China's largest bank, the state-owned Industry and Commercial Bank of China (ICBC), would back developer Argent and contractor Carillion in building a new, £800m, 500,000 sq m, business district at Manchester Airport.
Yesterday Manchester Airports Group made the unprecedented announcement that China's Beijing Construction Engineering Group (BCEG) would take part in the joint venture.
So what do you need to know about the firm that is soon starting work on one on Britain's third busiest airport?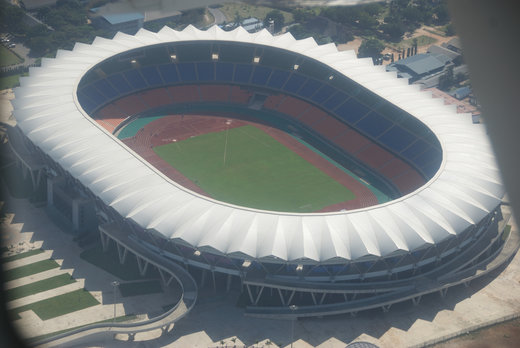 Beijing Construction Engineering Group (BCEG) followed the usual pattern of delivering Chinese-state-funded projects in the developing world, including the Tanzania National Stadium, pictured (Geza ulole 69/Wikimedia Commons)
BCEG employs approximately 20,000 people in total.
It ranks 133rd in Engineering News Record's 2013 Top 250 International Contractors list, which measures companies by revenue generated outside their home countries.
It's also 49th in its Top 250 Global Contractors list, which ranks companies by total revenue.
Its international division, BCEG International (BCEGI), was set up in January 2002, just days after China joined the World Trade Organisation.
BCEGI staff numbers have increased 12.5 times since 2002.
It has previously worked on Chinese-state-funded projects in the developing world, including the Tanzania National Stadium, the Presidential Palace of Togo, and an expressway in Mauritius.
As well as Africa, it claims to have offices and project teams in Malaysia, Singapore, Mongolia, the United Arab Emirates, Kazakhstan, the Philippines, and Vietnam, among others.
It has a US division (BCEG-USA) with American management led by CEO Zac Henson, who has previously completed many multi-million dollar projects both in America and abroad.
The company was founded in 1953 and since then has completed work that adds up to over 100 million sq m in total.
BCEG worked on 29 projects for the Bejing Olympics in 2008.
BCEG-USA hopes to fund and build a $1.2bn, 94-acre mixed-use development in Osceola County, Florida. Plans for the development, reported to include 1,200 wholesale retail units, have been approved by the municipality.