Aeroporti di Roma (ADR), the operator that runs Rome's Fiumicino airport, is planning to spend $13.5bn on a comprehensive upgrade of its physical infrastructure and its transport links with the rest of Italy over the next 30 years. 
There is some local opposition to the plan, with groups claiming the expansion would concrete over a neolithic burial ground, and damage evidence of the introduction into Europe of the horse. 
Fiumicino is presently Europe's sixth biggest airport, with 44 million passengers passing through in 2014. In the period to 2044, when ADR's franchise ends, the aim is to increase that number to 100 million and to compete with its northern European rivals to become one of the continent's main hubs.  
Lorenzo Lo Presti, the chief executive of ADR, told Airports Business magazine that the company would put in place a comprehensive refurbishment and extension of Fiumicino's facilities as well as the creation of high-speed rail links with other cities.  
He said: "The integration of the two transport systems – air and rail – will confirm the role of Fiumicino as the country's hub, and extend the offering of flights to the areas of Bologna, Florence and Venice, where citizens currently reach their intercontinental destinations through airports such as Frankfurt and Paris."Â Â 
As well as the refurbishment of its four existing terminals, the programme of works at the airport is divided into the Fiumicino South Completion Plan and the Fiumicino North Masterplan, which was drawn up by UK architect Pascall + Watson and Aecom subsidiary URS (pictured).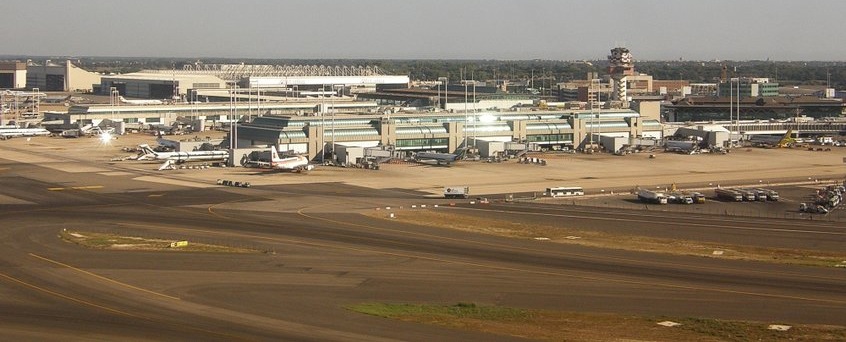 Fiumicino as it is now (Source: Ra Boe, Wikimedia Commons)
The southern plan aims to increase the terminal area, and upgrade apron, taxiways and all subsystems such as loading bridges, baggage reclaim and technical plants. The northern half envisages the extension of the airport's 29 square kilometres to provide land for another new terminal, a fourth, fifth and possibly sixth runway and associated hospitality and commercial buildings. Altogether, it is intended to double the airport's present terminal area with four new terminals.  
The first milestone on this journey is October next year, when and extension to Terminal 3 extension and a new boarding area will be complete, adding 90,000 square metres to the airport's terminal space. The next stage will be to construct a new check-in hall and pier at Terminal 1; this is scheduled for completion in 2019.  
One peculiarity of Fiumicino is that there is a terminal one, two, three and five, but no terminal four. The construction of one will be the final step in the Fiumicino South plan. Lo Presti said: "Our attention is already oriented towards Fiumicino North. The extension of the current airport has been considered as an area for development since the 1970s."Â Â 
ADR has said the investment programme will create "at least 30,000 new jobs in the first 10 years and more than 230,000 new jobs in the period to 2044. The forecast effect on the growth of the economy is similarly considerable: increased business worth €2.3bn [$2.6bn] in 2020 can be estimated."
The plan has aroused opposition among local groups. One, the Comitato Fiuripista, issued a statement that said: "ADR plans to concrete over the remains of the Fianello way where, on the banks of the ancient Lake Maccarese, about stood a neolithic village. The importance of the site is reflected – among other things – by the fact that the remains of the burial rituals that were found are now in the Museum of Rome Pigorini and constitute the oldest evidence of the presence in Europe of the horse. The planned doubling of  Fiumicino Airport would give a fatal blow to this territory."
Photograph: Pascall + Watson and URS have designed a masterplan for the new airport (Pascall + Watson)