US real estate tycoon Thomas Kramer has signed an agreement with Pakistan's largest developer, Bahria Town, to build a $20bn new-city development on two islands off Karachi, which Kramer says will help rid the metropolis of crime and terrorism.
The city is proposed to be built on Bundal and Buddo Islands in the Arabian Sea about three kilometres off the coast in Pakistan.
The developers claim "Island City" will have the world's tallest building, highest shopping mall and sports, educational, medical and media complexes. They say it will be connected to Karachi by a six-lane bridge.
In 2006 Emaar Properties announced plans for a $43bn development at the same site but the plan never materialised.
Kramer, a German-born property developer and television personality, is well known in America for successfully developing the South Pointe area of Miami, Florida, which was blighted with violent drugs crime and poverty before he turned it into a sought-after district.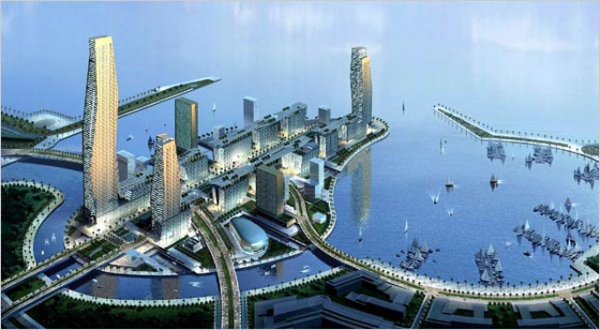 Proposed Island City, off Karachi (Credit: thomaskramer.com)
Signing the MoU with Bahria Town's chief executive Malik Riaz on 11 March, he said the islands development would have the same pacifying effect on Karachi as his South Pointe development had on Miami in the early 1990s.
Karachi is plagued by terrorist violence. A week before the MoU was signed, on 4 March, a car bomb killed at least 45 people and wounded 150 in the city.
"I think Malik reached out to me because I've got experience in putting bad neighbourhoods in their golden glimmer and making them successful," Kramer told reporters.
He said it was a "great opportunity to repeat this on a scale that has never seen anything similar in the whole world."
He said that when "radicals start shooting at everybody as is happening now here, and as it did in the 80s and 90s in Miami, the public opinion… and public will is going to turn against them and that is, as history proved over and over again, the guaranteed downfall of any radical movement."
Thomas Kramer, left, with Malik Riaz, chief executive of Bahria Town (Credit: thomaskramer.com)
Kramer said he would be "spearheading a syndicate of investors" who would spend $20bn on the 12,000-acre city over five to 10 years.
"To do the right mix, I'm putting the best experts the world has at the table," he said. "This is what I'm going to bring, besides money, to this project."
The entire city will be a "high-security zone", having its own desalinated drinking water and power generation plants.
Malik Riaz said the project will provide 2.5 million jobs, and help revive 55 national industries and provide housing to one million Pakistanis.