Local transport providers in Australia, California, China, Japan, Sweden and Switzerland are making 2018 the year driverless buses move from the test track to the city street.
In the past month or so an increasing number of projects have begun, been announced or have reached milestones in their development.
In the quiet town of San Ramon, near San Francisco, California's first autonomous bus service began last week. The "EasyMile shuttle" is an electric vehicle that has no driver's seat, and can carry 12 people, six sitting and six standing. A video of the bus making its maiden voyage can be seen here.
EasyMile's shuttles can travel at 45km/h and cost $250,000 each. So far, the company has sold its product to 20 countries, where they are mainly used in low-risk environments such as large commercial sites, although they have begun some services in small urban environments, such as Bavarian spa town Bad Birnbach.
In the town of Sion in southwest Switzerland, pod buses holding 11 passengers are making their debut in normal traffic for the first time. The city has been running a service in a pedestrianised area of the town since June 2016; now the 20km/h electric PostBuses, which use technology developed by Lausanne-based start-up BestMile, have begun operating among other cars, with the first trip made on 28 February.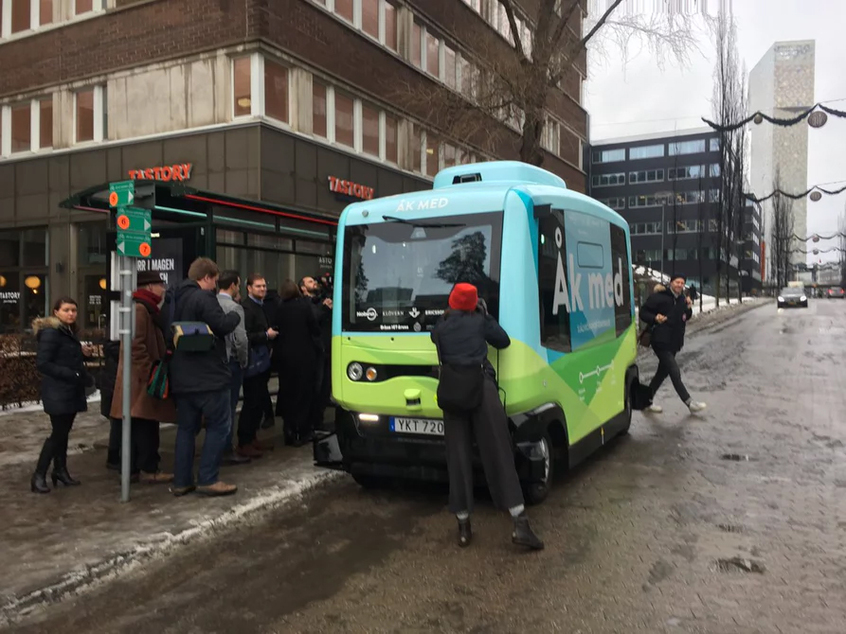 EasyMile's EZ10 electric pods began their trial in Stockholm in January (Ericsson)
A similar driverless shuttle has been put on the streets of Stockholm by EasyMile. It has partnered with local Swedish public transport providers to conduct a six-month trial of two electric self-driving shuttle buses on public roads in the Swedish capital. The goal is to test how the autonomous vehicles perform under real-world conditions for an extended period alongside cars, cyclists and pedestrians.
The buses, which started work in January, can carry 11 passengers (free of charge) at speeds of up to 24 km/h. Ericsson's open API Connected Urban Transport platform allows the buses to communicate with sensor-enabled bus stops, traffic lights and road-signs.
In Australia, the suburb of Liverpool in the southwest of Sydney has announced plans to begin a driverless service to and from the planned Western Sydney Airport. This will be a 19km route that uses a "rapid transit corridor" – a lane with special road markings.
Wendy Waller, the mayor of Liverpool, said the decision was about "the future being here now". She said: "It's not waiting for it to happen. It's happening and we want to see that technology in Liverpool and we want to see it being used for residents and also workers."
The Sydney scheme, which is still some way from realisation, envisages the use of full-sized single-deck buses.
Another more conventional design of bus, which comes with an optional steering wheel, is making its test debut in Tokyo. Hino Motors has teamed up with tech giant SoftBank to trial a large minibus. This made its first run to Haneda airport at a speed of 10km/h last month.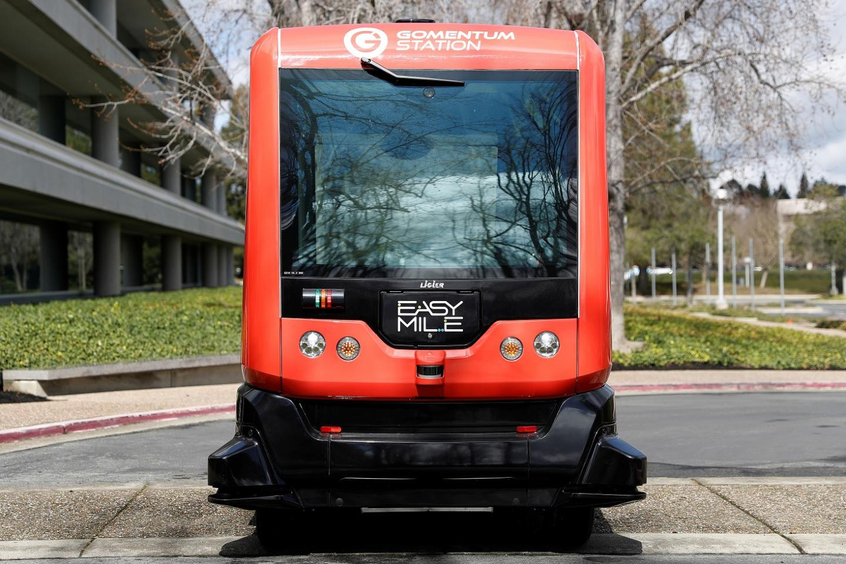 The EasyMile bus that has made history in California (EasyMile)
This vehicle is intended to move people around an airport, however SoftBank is also in partnership with French company Navya, which announced last week that it was aiming to bring its driverless buses to Japanese shopping centres, airports and university campuses.
Navya came to prominence in January last year, when it began a free autonomous shuttle service in Las Vegas.
Japan is also planning to have systems in place by the start of the 2020 Tokyo Olympics – as all Japanese schoolchildren know, the Shinkansen bullet trains were introduced to add lustre to the 1964 games, so 56 years later, there will be an expectation of something equally impressive to showcase Japan's prowess in the fields of robotics and automation.
Finally, in China's tech capital of Shenzhen has begun testing four self-driving electric buses, equipped with software and sensors from Chinese firm Haylion Technologies. The vehicles, which are about the size of large minibuses, have been running on a 1.2km loop in the city's Futian district with the aim of collecting real world data.
Top image: Swiss company BestMile's image of its PostBus
Â
This article was amended on 9th April 2018 to give the manufacturer of the Stockholm electric pods as EasyMile rather than Ericsson

Â
Further reading: