Funding worth A$6.4bn (US$4.38bn) has been announced by the New South Wales (NSW) government to accelerate construction on Sydney Metro West, which is billed as Australia's biggest transport project.
That figure adds A$3.4bn to the 2019-20 NSW Budget for the metro, on top of the A$3bn announced in the 2018 Budget.
When complete, the project will double the rail capacity between western Sydney suburb of Parramatta and the Central Business District, and will reduce the travel time to 20 minutes.
Andrew Constance, NSW minister for transport and roads, said: "We always said we would build Metro West as fast as possible. This commitment in the State Budget shows that when we commit to doing something, we mean business.
"We have worked our guts out to get the budget in a strong position and now we are able to deliver crucial rail projects like Metro West quicker than anyone thought was possible."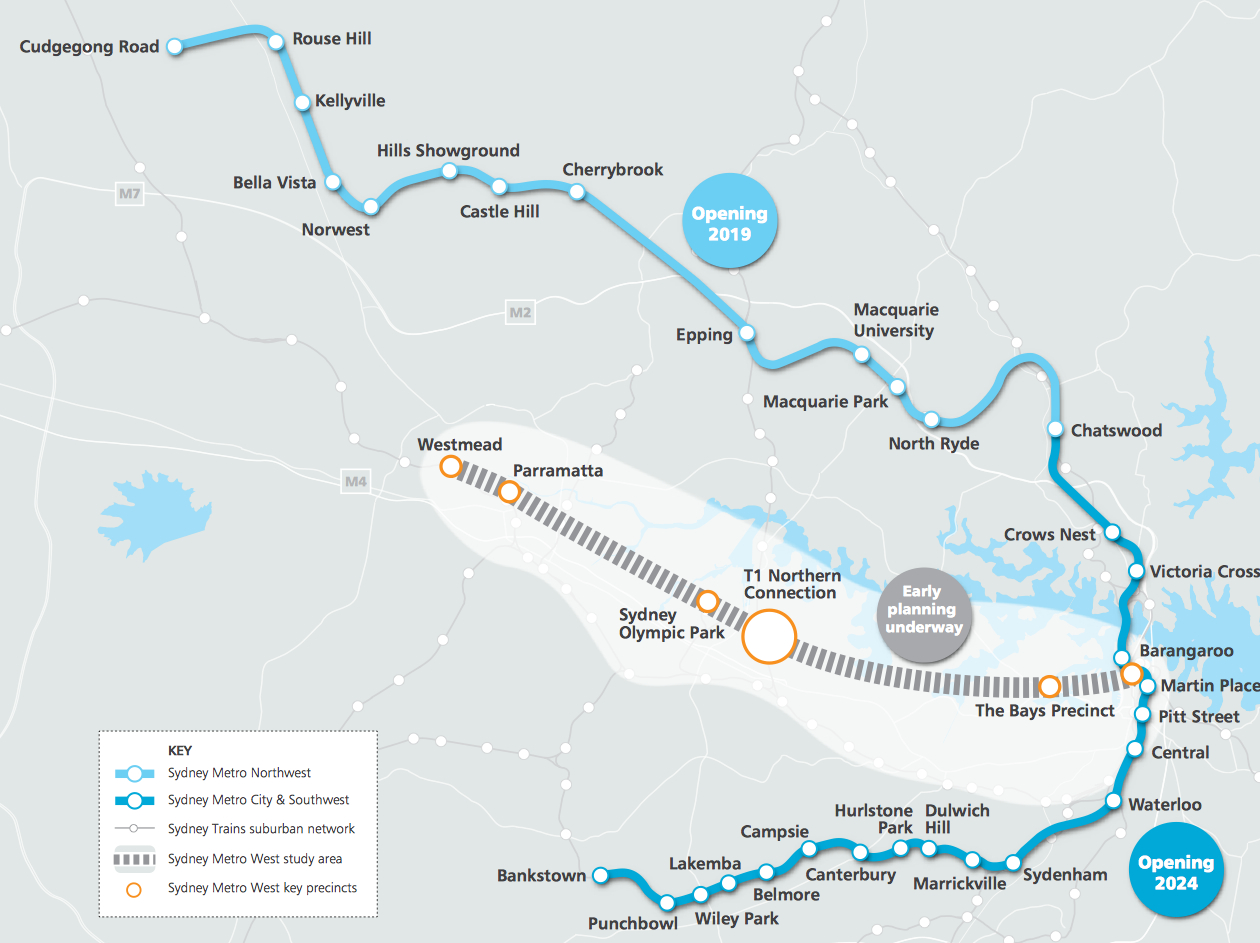 Map showing approximate alignment of proposed third, western leg of Sydney's new Metro (NSW government)
Constance then hit out at his political opponents: "Only this Government can be trusted to make that a reality. Labor has promised a Metro to Western Sydney three times since the mid-90s and cancelled it every time.
"In 2010 they were so incompetent they handed $81 million back to the Federal Government after cancelling it once again.
"We already have the runs on the board. We've opened North West Metro with phenomenal results and construction is well underway on Sydney Metro City & Southwest."
The main 66-km, 31-station, underground driverless railway, estimated to cost approximately A$20.3bn, is already being built, with one leg nearing completion that curves northwest from downtown Sydney, and another, with construction soon to begin, curving southwest from downtown, with the whole forming a rough horseshoe.
The New South Wales government says that construction on Sydney Metro West will start next year, and additional scheduling will be announced when the final business case is completed.
Image: Image courtesy of the NSW government