The UK government has come under heavy criticism for ignoring fire safety warnings and for delaying a review into building regulations after a catastrophic blaze engulfed a residential tower block in London this week, killing potentially scores of people.
Up to 4,000 towers nationwide are under emergency review while anger mounts over what may be a "very flammable" cladding system that has been widely used in the UK, though banned in the US and Germany.
We will do whatever it takes to make those buildings safe or make those people safe– Sajid Javid, UK communities secretary
As the death toll rose from a confirmed 17 to estimates of around 50 late yesterday, UK Prime Minister Theresa May ordered a full public inquiry into the fire, which started just before 1am on 14 June at Grenfell Tower in Kensington, west London, and spread rapidly along the building's newly-clad exterior, driving residents to jump from the 24-storey building and even to throw their children from upper floors in a desperate bid to save them.
A major focus of concern is the cladding added two years ago to the 1974-built tower. The system, which burned "like a matchstick" according to eyewitness reports, uses aluminium composite panels which may have had a flammable polyethylene or plastic core.
Today it was confirmed that the new cladding at Grenfell Tower was the cheaper, more flammable version of two available options. 
Manufacturer Omnis Exteriors confirmed to The Guardian newspaper that it supplied "Reynobond PE" cladding, which is £2 cheaper per square metre than "Reynobond FR", which stands for "fire resistant", to the companies that worked on refurbishing the tower.
Local authorities in London launched emergency safety inspections because the same system was used to clad "dozens of other buildings including scores of high-rise blocks housing thousands," reports UK newspaper The Daily Mail.
And nationally, as many as 4,000 tower blocks, many built for social housing, need urgent fire inspections, UK communities secretary Sajid Javid told the BBC this morning.
"Those people need to be given reassurance within days," he said. "There are about 4,000 high-rise buildings in the country, but not all of them have been recladded. Let's not make the assumption it is all about cladding. As soon as we have more information, which we expect later today, or certainly over the weekend, then that is what should be used to do these emergency inspections. We will do whatever it takes to make those buildings safe or make those people safe."
Similar cladding systems have been linked to a number of fires across the world, including the fire at the Lacrosse building in Melbourne's Docklands in 2014, and the Address Downtown Dubai Hotel, which erupted in a ball of flames on New Year's Eve in 2015, reports Construction Manager.
The more flammable system has been banned in the US for buildings taller than 12.2m in height, according to The Times, and The Guardian reports that Germany banned the system for buildings taller than 22m in the 1980s.
But while the cladding is said to be compliant with UK building regulations, angry denunciations have been levelled against the government for ignoring warnings about the system, as well as for delaying a review into those regulations dealing with fire – even after such a review was promised in the wake of a 2009 tower-block fire that killed six people in Camberwell, London.
"Mania for deregulation"
"We are still wrapping postwar high-rise buildings in highly flammable materials and leaving them without sprinkler systems installed, then being surprised when they burn down," architect and fire expert Sam Webb told The Guardian.
"I really don't think the building industry understands how fire behaves in buildings and how dangerous it can be," he went on. "The government's mania for deregulation means our current safety standards just aren't good enough."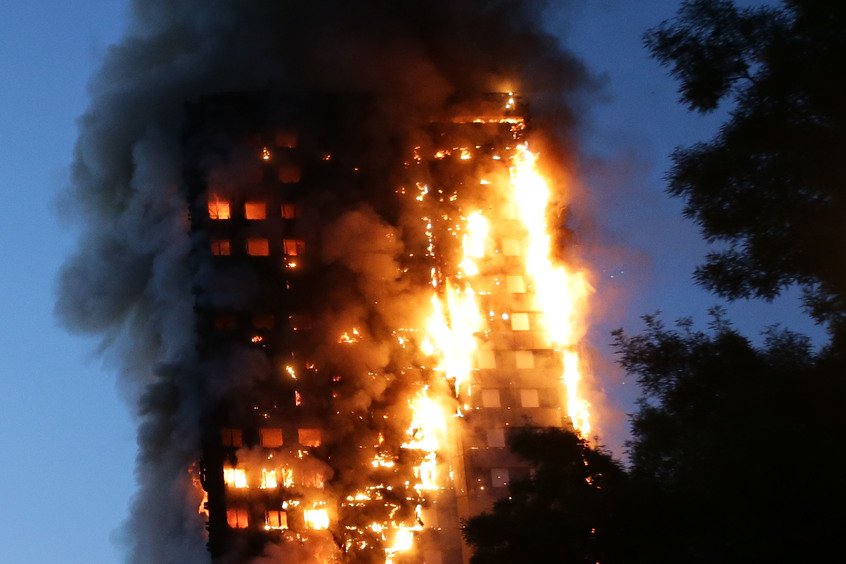 Fire engulfs Grenfell Tower, a residential block, on 14 June 2017 in west London
Webb advised the legal team for the families after the 2009 blaze at Lakanal House in Camberwell. An inquest found the fire spread unexpectedly fast, with the exterior cladding panels burning through in just four and a half minutes.
As with Grenfell Tower in Kensington, the official advice in 2009 had been for people to remain in their homes in the event of a blaze, on the basis that the tower was designed to contain fires in individual apartments. But the Lakanal House inquest concluded that years of negligent renovations had removed fire-breaks between flats, which allowed the fire to spread. The local authority was fined £570,000 under fire safety laws.
"Very flammable"
Fire safety in UK buildings is governed by part B of the building regulations, but part B has not been subject to an in-depth review since 2006, according to the Guardian, when other parts are reviewed every two years.
In October last year, then-housing minister Gavin Barwell stated that part B would be reviewed in the wake of the 2009 the Lakanal House fire, but no such review was forthcoming.
Yesterday industry body the Fire Protection Association criticised the government for not updating part B to take into account the behaviour of thermal insulated cladding systems, some of which contain materials that can be "very flammable", it said in a statement.
Prompted by insurers' concerns, the FPA conducted fire tests on the systems starting in 2014 and found that where inbuilt features such as vents or pipes breached the system, "a chimney effect may quickly develop that will cause the very rapid consumption of the insulation and expansion of the damage area".
"While we have lobbied long and hard to changes to building regulations, the groups responsible have remained resolutely intransigent to opening up a review," Dr Jim Glocking, the FPA's technical director, told the Guardian.
"Various ministers have said over the years that there will be an imminent review, but it keeps being put on hold, in spite of organisations like ourselves campaigning very hard."
Meanwhile, Scotland Yard has said that it had begun a criminal inquiry following the blaze.
Image courtesy of the London Fire Brigade Twitter account
Updated to include reported confirmation of cladding type at Grenfell Tower.