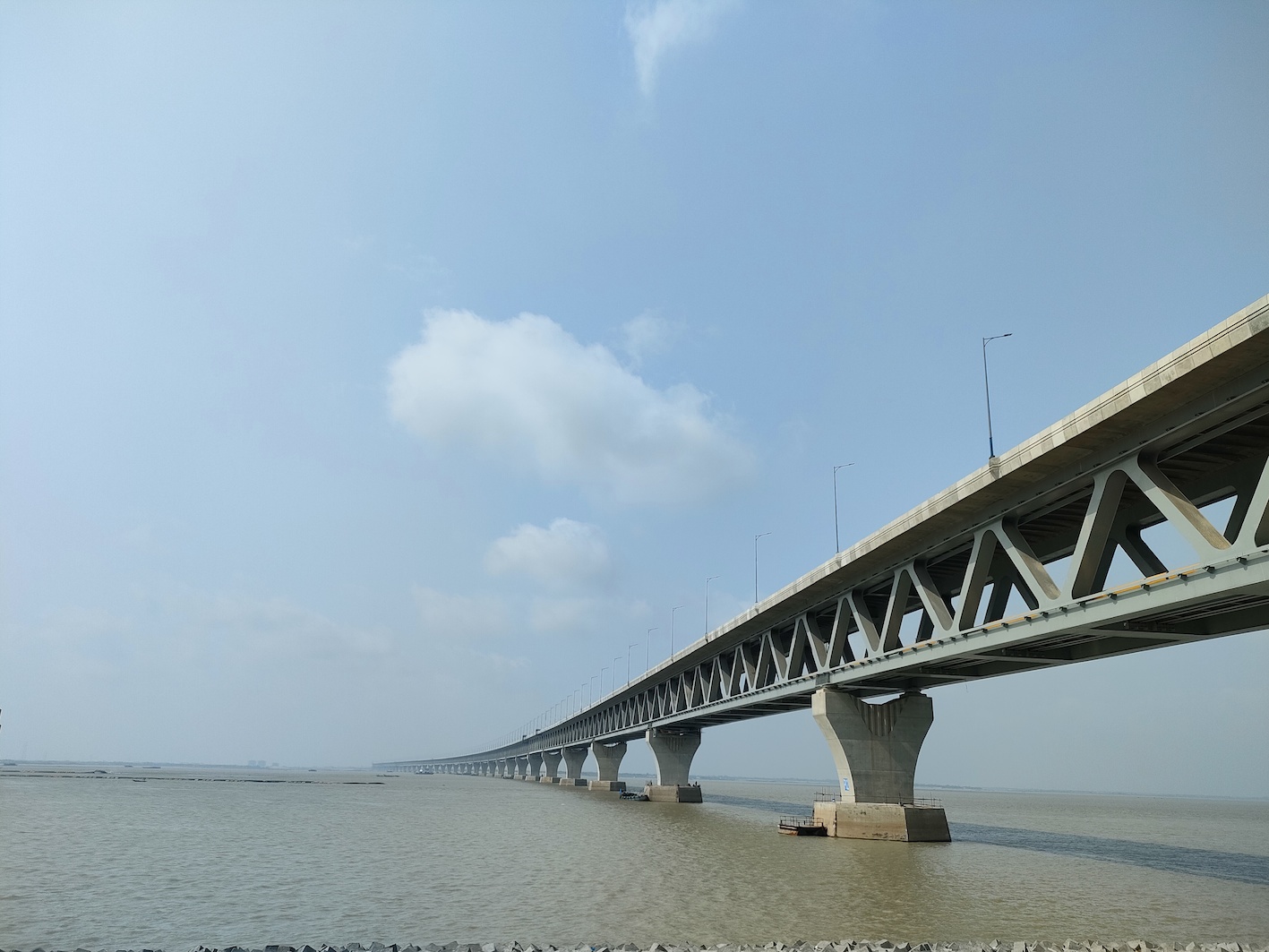 Thousands of Bangladeshi motorists queued to make their first trip across the newly-opened Padma Bridge yesterday near Dhaka, with the government of the country declaring it a "symbol of the nation's glory" and vindication of a corruption case dismissed in Canada.
Costing around $3.6bn, the 6.15km-long, double-decked bridge, carrying a highway on the top deck and a railway on the lower, crosses the fast-flowing Padma River, creating an important transport link between Dhaka and poor regions to the southwest where some 30 million people live.
China Railway Major Bridge Engineering Group won the contract to build the bridge in 2014 and, with it, has set a record for the longest bridge built by a Chinese firm outside China, Xinhua reports.
Before it won the contract, the long-planned scheme became mired in controversy in 2012 when the World Bank withdrew its $1.2bn in funding, claiming to have evidence of a "high-level corruption conspiracy" among Bangladeshi government officials, executives of Canadian engineering firm SNC-Lavalin and others in connection with the scheme. In 2013, the bank debarred SNC-Lavalin for 10 years for what the bank called its "misconduct" in relation to the project.
That year Canadian police launched a corruption case in connection with the project against former SNC-Lavalin executives, but it was dismissed by a Canadian court in 2017 on the grounds that wiretap evidence initially offered was inadmissible.
Last year the World Bank released SNC-Lavalin from its sanctions two years early after deciding the company had met all corporate integrity conditions.
Referencing the failed case in remarks preceding the bridge's opening, Bangladeshi President M Abdul Hamid said: "Today, the Padma Bridge stands as a symbol of the nation's glory in the heart of the turbulent Padma."
He added: "The implementation of this bridge has given us the courage to stand high with confidence across the globe as a symbol of wealth management, transparency, accountability and efficiency."
Bangladeshi Prime Minister Sheikh Hasina said the bridge would increase the country's GDP by 1.23% and would alleviate poverty by 0.84% a year.
It said steel piles 3m in diameter were driven to depths of up to 130m.