The 2016 Sustainable Cities Index, compiled by Dutch consulting engineer Arcadis, has once again found that the wealthy urban centres of Europe and East Asia come top in its analysis of cities according to their quality of life, environmental sustainability and economic performance.
The winner was Zurich, a city that did not appear in the top 10 last year. It was praised for its trams, trains and buses, which make mobility "simple, quick and affordable", and its drive to make everyone live on "2,000 watts" – the global definition of sustainable energy use. 
It has also confirmed last year's low ranking of US cities, none of which make it into the top quarter of the 100. And it found that the least sustainable cities are located in the teeming metropolises of the world's south, where slums and informal economies dominate the physical and financial landscapes. 
The authors of the report say the most striking finding is the failure of cities to balance the needs of people, planet and profit. This is most evident in the tension between creating liveable cities that also act as profit centres. For example, Zurich, the city that was ranked first overall, scored highly as a place to make money, but only 27th as a place for people to live – largely because of the expense.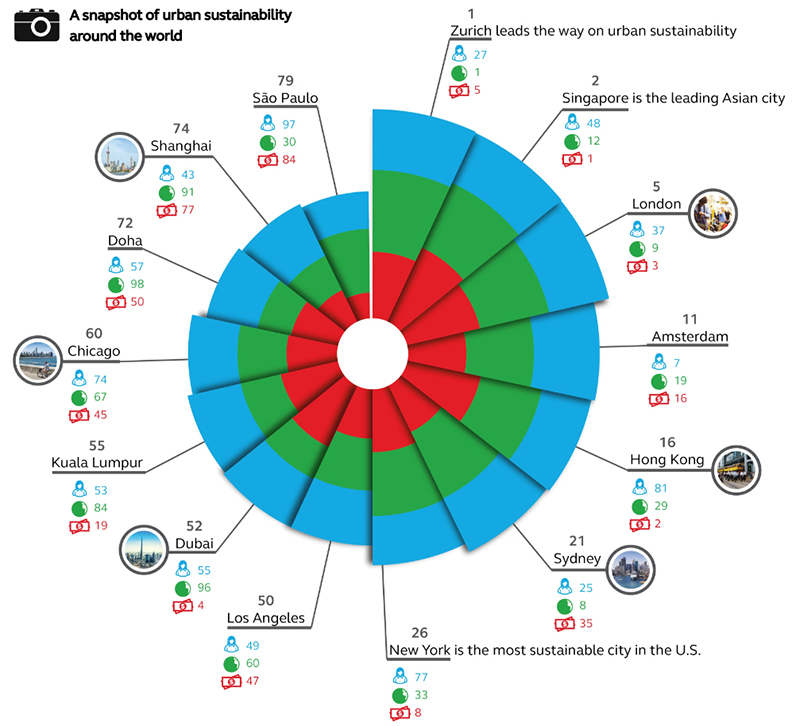 Arcadis' snapshot of cities' rankings
This was even more striking in US cities, where the top city for people was Denver in 47th place, but the top city for profit was New York in eighth.
In this respect, London is something of a US city: its international financial sector puts it in third place for profit (behind Singapore and Hong Kong), but in 37th place for people. This is largely because of the high cost of housing, the struggle to install enough infrastructure to accommodate 10 million people by 2030 and the fact that 28% of the population live below the poverty line.
Top and bottom global cities
| | |
| --- | --- |
| Top 10 | Bottom 10 |
| 1. Zurich | 91. Bengaluru (Bangalore) |
| 2. Singapore | 92. Mumbai |
| 3. Stockholm | 93. Chengdu |
| 4. Vienna | 94. Wuhan |
| 5. London | 95. Cape Town |
| 6. Frankfurt | 96. Manila |
| 7. Seoul | 97. New Dehli |
| 8. Hamburg | 98. Nairobi |
| 9. Prague | 99. Cairo |
| 10. Munich | 100. Koklata |
 
Only three cities made the top 20 for all three indices: Stockholm, Vienna and Amsterdam.
At the other end of the index, which has doubled from 50 cities last year to 100, India occupies four of the bottom 10 slots, compared with two last year.
And despite the investment that accompanied the World Cup and the Olympic Games, Rio de Janeiro remains one of the world's hardship postings: 41st out of 50 in 2015 and 82 out of 100 this year.
A copy of the report can be downloaded here.
 
Top image: Zurich has the world's best mass transit systems, but is expensive to live in (Neil Palmer/Creative Commons)
Further reading: