A statue of Ramses II weighing 82 tonnes has been moved to the Grand Egyptian Museum by Egyptian firm Orascom and Belgium's Besix, using cranes and a conveyor system.
The red granite statue dates back 3,200 years and was discovered by Italian Egyptologist Giovanni Battista Caviglia in 1820 at the site of the Temple of Ptah in Memphis, northern Egypt.
It was displayed in downtown Cairo on Ramses Square before being moved to the Giza Plateau in 2006.
It is the first artifact to be transferred to the Grand Egyptian Museum, a project due to open this year which is developed by Orascom and Besix.
The latest feat saw it moved 400m to its new home in the new Grand Egyptian Museum in Giza.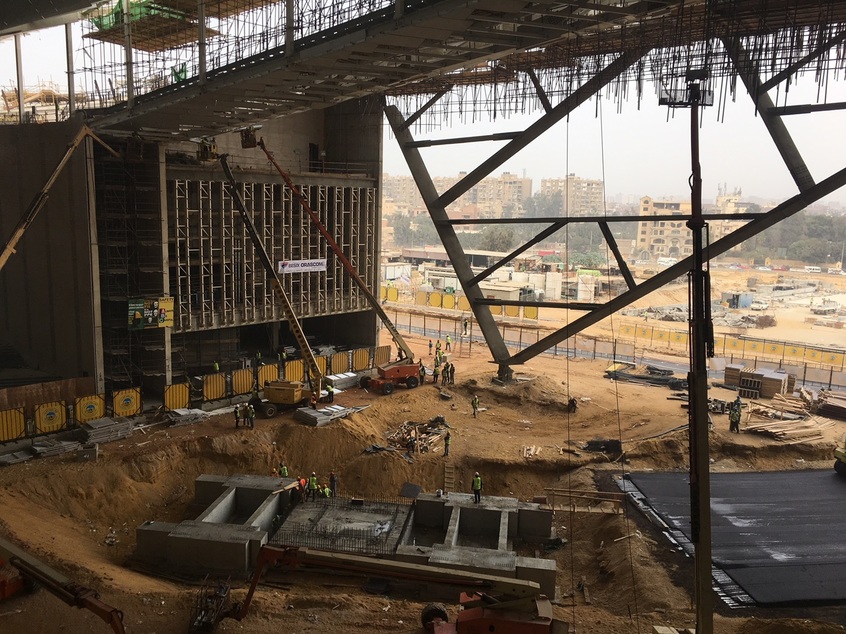 The foundations on which the statue will rest in the future main hall
The €810m museum will contain 150,000 artefacts, including objects from Tutankhamun's Tomb, which will be exhibited to the public for the first time.
Ramses II is best known for his appearance in Percy Bysshe Shelley's 1818 sonnet Ozymandias – the translation of his name into Greek.
Top image: Ramses II during transportation (Rik Vandenberghe, Besix Chief Executive)