A large, derelict linen and jute mill in Aberdeen, which holds the title of the oldest iron-framed factory in Scotland, will be partially demolished to make way for a £100m "urban village".
Keeping the mill intact would add more than £10m to the scheme's cost, councillors were told.
The four-storey, grade A-listed Broadford Works will yield to 590,000 sq ft of new buildings, including 460 homes for sale or rent, accommodation for 430 students, commercial office space, shops, restaurants and cafes.
City councillors approved recommendations from planners for the demolition after being told it was essential if the redevelopment was to go ahead. A report by the Hurd Rolland Partnership in 2016 said retaining all the buildings would cost upwards of £11.5m, whereas demolition would cost £1.1m.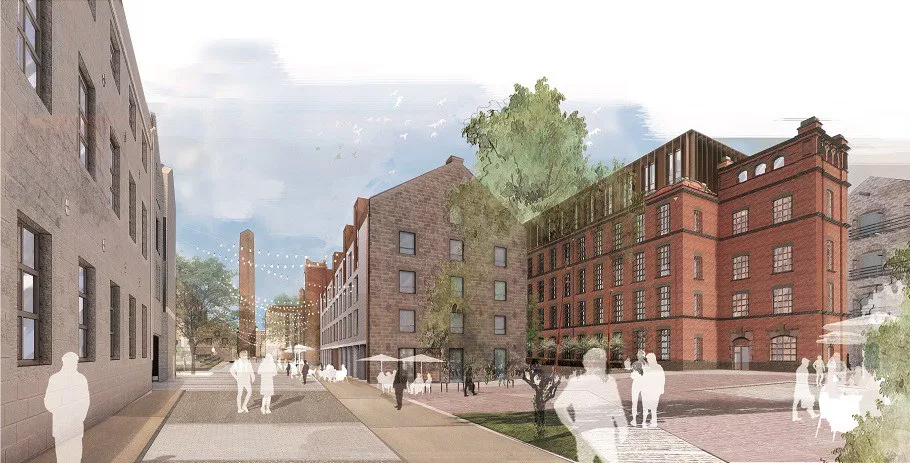 Inhabit's rendering of the urban village
Ramsay Milne, a councillor in charge of planning, said: "Broadford Works is a site of great significance in Aberdeen and the decision represents the next stage in plans for its redevelopment.
"The scheme will create an entirely new and distinctive city centre neighbourhood, all the while preserving the most important listed buildings on the site and retaining its industrial heritage and character for the residents of Aberdeen to enjoy."
A spokeswoman for Inhabit said: "We are delighted that Aberdeen city councillors have unanimously supported our plans for the regeneration of the historic Broadford Works site. The redevelopment will support the city's long-term growth by delivering a high quality, mixed-use development that sits alongside the Aberdeen City Centre Masterplan."
Top image: The Broadford Works was closed in 2004, and has been regularly vandalised since (AberdeenBill/Creative Commons)
Further reading: