In a celebration of the idea of world unity, India's Prime Minister Narendra Modi yesterday witnessed the ground-breaking for the first traditional stone Hindu temple in the Middle East in Abu Dhabi, capital of the United Arab Emirates (UAE), where more than three million people of Indian origin live.
Replicating the BAPS Swaminarayan Akshardham temple in New Delhi (pictured), it will be completed by 2020 when it will open its doors to people of all religious backgrounds, reports NDTV.
"I believe this temple will not be only unique in terms of architecture and splendour, but will also give a message of 'Vasudhaiva Kutumbakam' (world is one) to people across the world," he said, thanking Crown Prince of Abu Dhabi, Mohamed bin Zayed Al Nahyan, for the temple.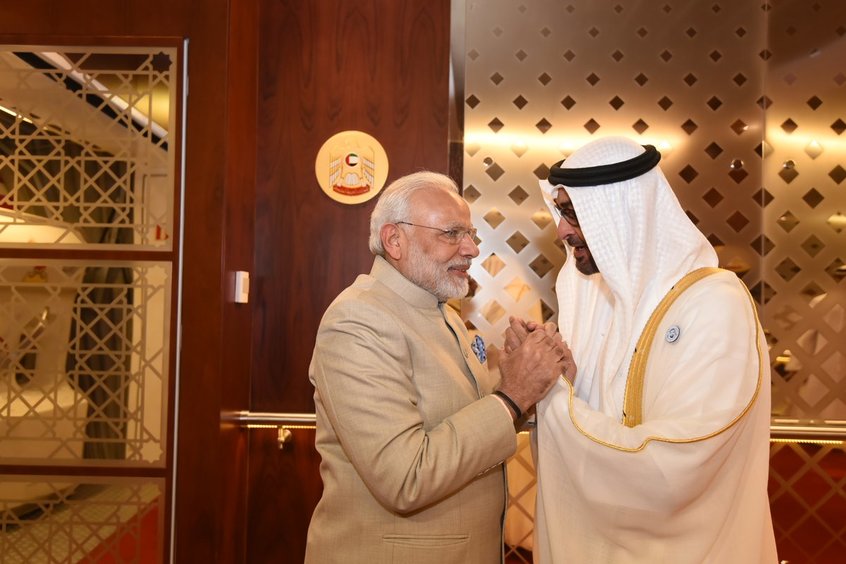 Indian Prime Minister Narendra Modi is greeted by Crown Prince of Abu Dhabi, Mohamed bin Zayed Al Nahyan, in Abu Dhabi on 10 February 2018 (Tweeted by Narendra Modi)
An example of offsite construction, the temple's components will be hand-carved by Indian artisans before being assembled on a 55,000-sq-m plot off the Dubai-Abu Dhabi highway.
It will be be a social, cultural and spiritual complex, and Abu Dhabi's first Hindu temple. More than that, it will be the first traditional Hindu stone temple anywhere in the Middle East, a BAPS spokesperson told NDTV.
Modi, visiting the UAE for the second time after his 2015 trip to the country, witnessed the groundbreaking ceremony via live-streaming from the Dubai Opera House where he was meeting the Indian community.
The prime minister also visited Oman and Palestine.
Top image: The Abu Dhabi temple will replicate the Swaminarayan Akshardham temple in New Delhi (Wikimedia Commons)