Spanish infrastructure firm Acciona has begun legal action to claim an additional A$1.2bn (US$920m) from the government of New South Wales (NSW) for its work building a light rail system in Sydney.
It claims the state government misrepresented the challenges posed by existing underground utilities, and that the discovery of water and power lines has caused delays to the scheme, originally costed at A$1.6bn.
NSW transport minister Andrew Constance reacted angrily to the news that Acciona intended to file a claim in the NSW Supreme Court on Friday (6 April).
"These are outrageous claims and an attempt to fleece the NSW Taxpayer. Not going to happen," he tweeted.
He also argued that the government agency Transport for NSW – the target of Acciona's claim – had no contract with Acciona, since Acciona was retained by the consortium, Altrac, who won the bid to finance and build the line as a public-private partnership in 2015.
The 24km South East Light Rail line, set to run from downtown to the eastern suburbs, was to have been completed this month but so far only half of the civil engineering work has been done. Acciona earlier began a go-slow approach to the work in protest at the unexpected complexity of the ground conditions.
"We're not going to get fleeced by anyone, we're an angry customer at this point in time," Constance told media.
But NSW's opposition Labor Party rushed to capitalise on the dispute, saying it demonstrated the incompetence of NSW's Liberal Party Premier Gladys Berejiklian.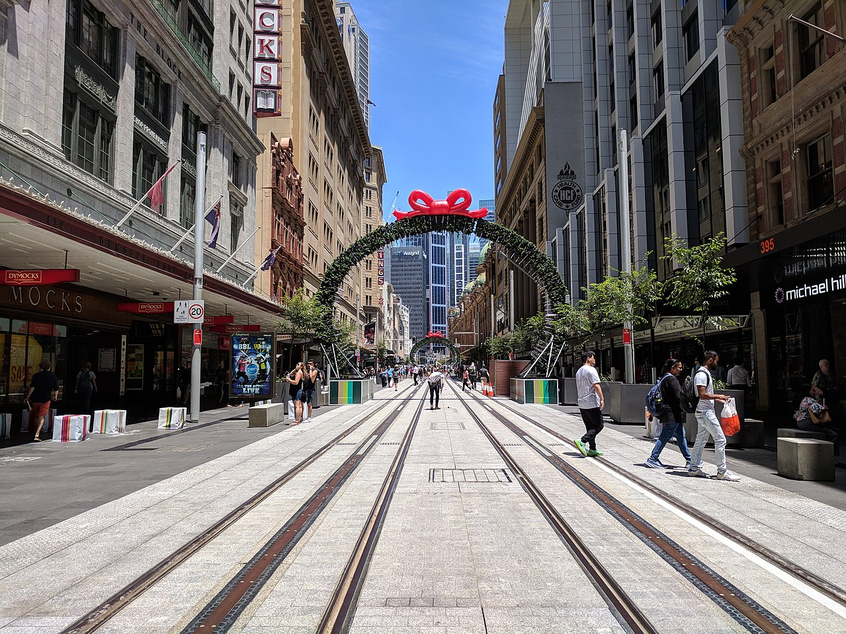 A completed section of the South East line, in George Street central Sydney (Nick D/Creative Commons)
"Every time the contractor digs a hole there is something underneath the ground that they weren't told about," said Michael Daley, Labor's spokesman for infrastructure, reports broadcaster ABC. He added this was the worst project he had seen in his 20 years of public life. 
He blamed the debacle on Berejiklian, who commissioned the scheme when she was transport minister. "Gladys rushed this project," he said. "It should have taken two years to plan."
In a statement to Fairfax Media on 7 April, an Acciona spokesman said: "We have filed a claim in the NSW Supreme Court against Transport for New South Wales regarding Sydney Light Rail, and the matter will be first heard by the Court on Friday 13 April. As this is an ongoing legal matter, we do not wish to make any further comment."
The dispute has been brewing for some time. In February lawyers for Acciona sent a letter to Transport for NSW to claim compensation for loss and damages, as well as interest on unpaid debts. It also threatened to take the case to the Supreme Court.
However, the relationship between the NSW government and Acciona began to deteriorate before then, in December 2016, following a claim for costs following changes to the design.
A report in The Sydney Morning Herald at the time blamed "backroom squabbles" between public official and contractors, "exit of senior managers charged with overseeing construction, and delays to the completion of final designs".
Labor party leader Luke Foley party claimed that the dispute made the project the world's most costly light rail scheme. "It started at $1.6bn, now it's up to $3bn perhaps," he said. 
Top image: Construction under way on Circular Quay station, December 2017 (Gareth Edwards/Creative Commons)Â 
Further reading: