A consortium between American, Spanish, French and UK companies has won a $3.3bn fixed-price project to design and build a road and tunnel in the state of Virginia, the largest construction project in Virginian history.
The Hampton Roads Connector Partners includes two of Europe's largest contractors, ACS of Spain and Vinci of France. The construction work will be carried out by ACS subsidiaries Dragados USA and Flatiron Constructors, as well as Vinci Construction and its Dodin Campenon Bernard subsidiary. Engineering and design services are to be provided by UK consultant Mott MacDonald and Omaha-based HDR.
The decision was announced on Friday by Ralph Northam, the governor of Virginia. The governor said in a press statement: "This project supports and expands critical transportation infrastructure, creating opportunity for families, military personnel, and businesses in the Hampton Roads region.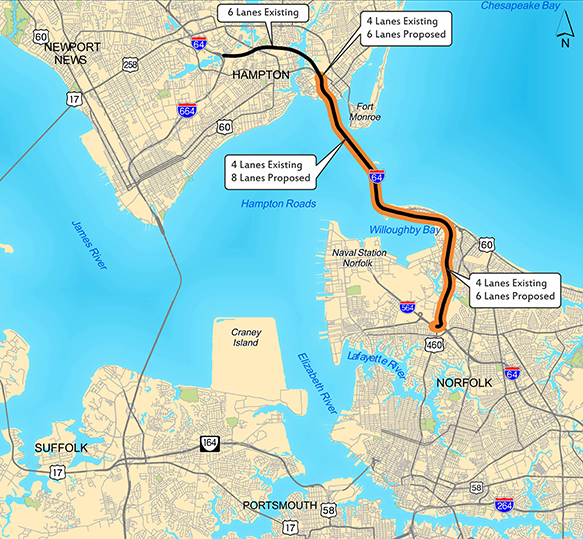 The plan to ease congestion between Hampton and Norfolk (HRBT)
"I am proud of the hard work and negotiations that have taken place over this past year to deliver significant improvements that will relieve daily congestion, increase safety, and drive economic growth throughout this important corridor."
The contract aims to ease congestion on the I-64 Hampton Roads Bridge-Tunnel in the southeast of the state. The existing 5.6km facility consists of two two-lane immersed-tube tunnels on artificial islands, with trestle bridges to shore.
These tunnels are 2.3km long and traffic through them exceeds 100,000 vehicles a day during peak summer traffic. The project will expand the Hampton Roads Bridge-Tunnel from Hampton to Norfolk, and will provide six-lane capacity along I-64 corridor from Settlers Landing in Hampton to I-564 in Norfolk (see the map for what this means on the ground). Plans call for it to be completed in 2024.
Funding will come from tax and tolls administered by the Hampton Roads Transportation Accountability Commission. The state is also applying for federal funding for the scheme.
Top image: The I-64 interchange (Virginia Department of Transport)
Further reading: