A senior manager at sportswear giant Adidas has admitted that its cherished headquarters in a rural part of Germany known for beer and conservative politics may put it at a disadvantage when it comes to attracting the creative and technical talent it needs in a highly competitive market.
The admission came this week as the firm promised to placate shareholders with $1.9bn worth of share buybacks over three years, following a series of profit warnings.
Adidas, based since its beginnings in the Bavarian town of Herzogenaurach, has been losing market share to arch rival Nike, whose HQ is in the rather more hip and connected city of Portland, Oregon.
The company will worry that it is missing tricks in America, the world's biggest sportswear market, after it was overtaken by Under Armour as the second biggest brand there earlier this month.
Herzogenaurach – usually shortened to 'Herzo' – is an historic town of just under 23,000 approximately two hours by car from Munich. (It is also home to rival sportswear maker Puma. The two firms were founded by the brothers Adolf and Rudolf Dassler, who fell out in 1948. The companies' HQs occupy opposite sides of the Aurach River, and brand loyalty is said to split the town.)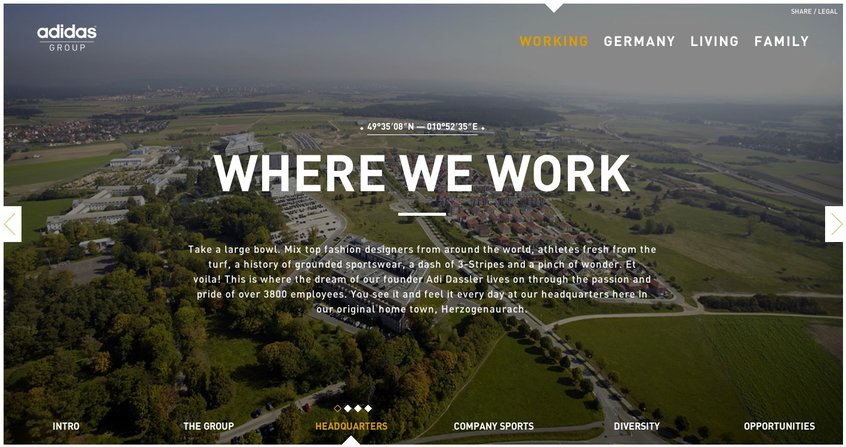 Adidas, advertising the virtues of its wide open campus in Herzogenaurach (Adidas)
This week a senior manager in charge of branding and digital recruiting admitted that sleepy Bavaria may be a turn-off for technical and creative whizzkids.
"We need a lot of that top talent that is cutting edge," Steve Fogarty told Reuters this week. "Ideally, they are working in the tech industry, in marketing organizations or are coming from top competitors. We need an environment that appeals to them."
He added: "Designers tend to gravitate to very large, international cities like Berlin, Amsterdam, London and it is a bit harder to convince them to move to the centre of Germany."
But Fogarty, who spent three years working in Herzo but is now based in Portland, insisted that Adidas did not lose staff because of the Herzo HQ.
"While our headquarters is technically in Herzo, the opportunity to work in many locations is already here, so why invest in moving the headquarters?" he said.
Set amid rolling fields, Herzo is somewhat cut off from the rest of the world, with no train links to nearby Nuremberg and Erlangen. Its airfield (pictured) is not used for commercial aviation.
One former staffer, who requested anonymity because they still do contract work for Adidas, told Reuters that they left the company because they found living in Bavaria too boring. "It is so odd that this company is in the middle of farmland. It doesn't have anything to do with style," the person said.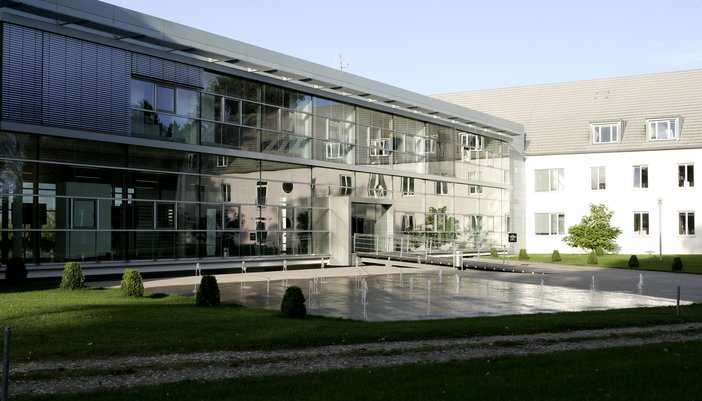 Adidas Group HQ in 'Herzo' (Adidas)
Reuters reports that about 3,900 of the total Adidas staff of 52,500 work in and around Herzo, about a third of them from outside Germany. 
Adidas is, however, taking steps to reverse what may be its relative isolation.
The firm's new global creative director, Paul Gaudio, has been relocated from Herzo to the firm's US base in Portland, where nearly 1,000 Adidas staff are based (compared to Nike's 8,500-strong workforce in the area, according to Reuters).
Gaudio has announced that next year Adidas will open a small creative studio in New York to be led by three young footwear designers poached from Nike.
That will complement existing creative centres in Shanghai, Tokyo and Rio, but the beating heart of Adidas' design function looks set to remain in Herzo for the foreseeable future.
And Adidas has tried to turn Herzo's wide-open ambience to its advantage. The firm recently announced plans to build two new buildings – with a capacity for 3,600 staff – at its "World of Sports" campus outside Herzo.
It is also about to open a 16-metre-high climbing wall in the grounds.