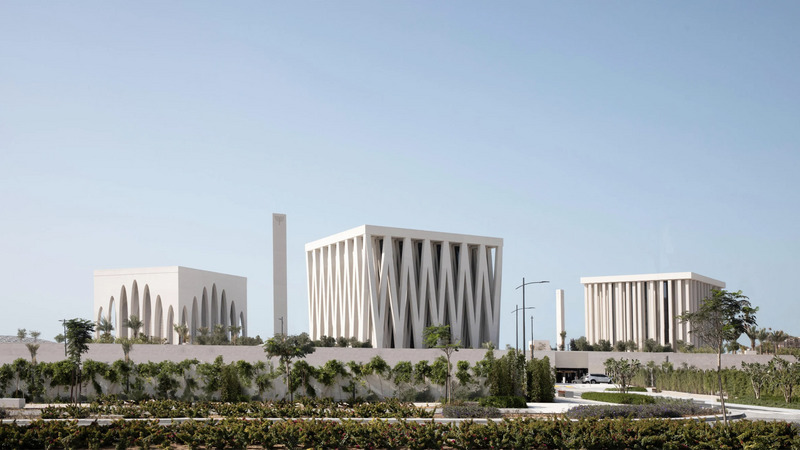 The Abrahamic Family House, a religious complex designed by Adjaye Associates for Saadiyat Island in Abu Dhabi, is opening to the public today.
The 7,700 sq m site contains a mosque, a synagogue and a church that take the form of three cubes sharing the same plinth but with different orientations. The three places of worship are joined by a garden set with colonnades.
The mosque, called the Grand Imam of Al-Azhar, is oriented towards Mecca, with an exterior comprising seven arches and an interior made from nine ascending vaults, each rising to form a sail vault at its apex. Its mashrabiya – the lattice screen that acts as a brise soleil – will be hand finished and contain 470 openable panels.
The church, which is dedicated to St Francis of Assisi, faces east and is described as a "forest of columns" by its designer. Its vaulting is made from 13,000 metres of timber, and its columns are inspired by rays of light.
The Moses Ben Maimon Synagogue is named after 12th-century Jewish philosopher. It is oriented west, towards, Jerusalem. It has a bronze chainmail façade that is designed to mimic the palm trees used to build a Sukkah – a temporary hut used during the Jewish Festival of Shelter – and the skylight references the chuppah, a temporary structure used during marriages.
David Adjaye, Adjaye Associates' founder, said: "As an architect I want to create a building that starts to dissolve the notion of hierarchical difference. It should represent universality and totality – something higher, that enhances the richness of human life."