A two-building commercial and residential development in the Glückstein district of Mannheim, Germany has become the latest to cut weight and CO2 emissions by using the patented void-former system made from recycled plastic from Heinze Cobiax Deutschland.
Steel-reinforced plastic air bubbles replace up to 35% of the reinforced concrete required in slabs, which saves on materials and allows a shallower slab depth.
Void formers can go where concrete is not required for the slab's shear load bearing ability. In this instance around 60% of the slabs' area could be filled with void formers without risking structural weakness, the design and construction  team told GCR.
They said they saved 1,613 tonnes of concrete in all and prevented 136 tonnes of CO2 emissions entering the atmosphere by the time the shell of the scheme's 13-storey tower was finished in July this year.
Void formers were specified because developer and builder Diringer & Scheidel Group (D&S) wanted the 24,300-sq-m scheme, set to be the new offices of insurance firm SV SparkassenVersicherung and to include 77 rented apartments, to achieve Gold certification from Germany's Green Building Council (DGNB).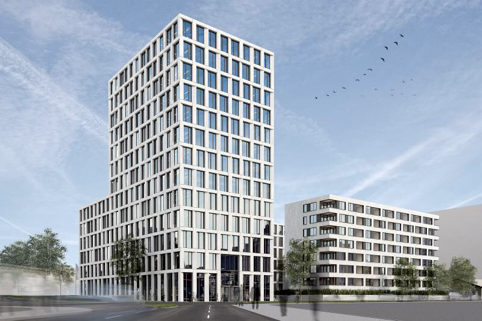 Render of the two new SV SparkassenVersicherung buildings in Mannheim's Glückstein district (Sacker Architekten/D&S)
The shallower slab depth of 30cm also helped the tower meet a maximum height restriction of 53m.
Structural engineer Kronach + Müller was satisfied the air-filled slab would work even though the scheme, designed by Sacker Architekten, is in a seismic zone.
"As Mannheim is located in a category 1 earthquake zone and the site has been classified in subsoil class C and ground type class S, demonstrating seismic safety was particularly elaborate and difficult," said Walter Müller, executive structural engineer.
"The stable and even load transfer needed for this is achieved using shear walls on top of a total of 311 reinforced beam columns cast on site."
Thanks to weight reduction provided by the bubbles, it was possible to shorten the beam column length to 7m to 8m.
Void formers did, however, present a logistical challenge on the cramped site because it meant an additional material had to be delivered.
Even though the team asked for them to be preassembled into modules, there were still 8,866 units to receive, each 2,500mm long. In total, 16 deliveries had to be timed precisely to coincide with slab pours.
The modules, with steel reinforcements, are set into a layer of concrete to stop them moving (D&S)
"Cramped conditions and the vast amount of materials to be delivered, such as 16,000 m³ of concrete and 3,000 t of steel, made precise logistics planning unavoidable," said Walter Varady, site manager for Diringer & Scheidel Bauunternehmung.
The modules transfer load in two directions, preserving the static performance of the voided flat slab.
They are first set in a layer of concrete to bind them – a bond forming with the modules' steel casing – before being concreted over.
Heinze Cobiax trained workers in the technique before concreting began.
Construction kicked off in November 2017. A groundwater drainage system was needed, necessitating rear-supported sheet piling and gel injection foundations. Work on shell construction began in May 2018. Handover is scheduled for summer 2020.
Cobiax has been developing lightweight, ecologically efficient hollow core systems since 1997 and has been a permanent member of the Heinze Gruppe, an association of plastics technology companies, since 2016.
Top image: The patented Cobiax system consists of modules made out of reinforcement steel, 250 cm long, which the void formers are fixed into once the half parts have been installed (D&S)