Aerospace company Airbus has announced plans for an autonomous vehicle that is capable of taking off and flying over traffic jams "at the push of a button".
The "Project Vahana" vehicle would only transport single passengers, however a different branch of the firm is also testing CityAirbus, an electrically powered vertical take-off and landing vehicle that would be somewhere between a plane and a helicopter. This could be used to transport groups, and passengers could book a space with their smartphones.
A3, Airbus' innovation branch based in California, plans to start testing the Vahana technology next year. The company says "many of the technologies needed, such as batteries, motors and avionics are most of the way there".
Vahana will likely also need reliable sense-and-avoid technology. This is starting to be introduced in cars, however no mature airborne solutions exist.
As for CityAirbus, Airbus Helicopters, which is based in France and Germany, has been working on this vehicle for the past two years. It would have multiple propellers and resemble a drone in its basic design.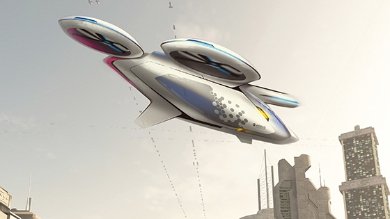 According to Airbus, the "sharing economy" would make journeys in the CityAirbus affordable. A flight would cost the equivalent of a normal taxi fare for each passenger, but would be faster, more environmentally sustainable – and much more exciting.
First models would be operated by a human pilot, but it is expected that it would switch to full autonomous operations once regulations are in place. At present, no country allows unmanned aerial vehicles to fly with passengers.
Tom Enders, Airbus Group chief executive, said: "I'm no big fan of Star Wars, but it's not crazy to imagine that one day our big cities will have flying cars making their way along roads in the sky.
"In a not too distant future, we'll use our smartphones to book a fully automated flying taxi that will land outside our front door, without any pilot."
Images via Airbus