Not content with planning a second US headquarters building, e-commerce giant Amazon has added a building called "The Spheres" to its campus in downtown Seattle.
Designed by US architect NBBJ, the Spheres are a piece of a $4bn investment project Amazon is making as they expand their development in downtown Seattle.
The Spheres will house 40,000 plants from around the world, treehouse meeting rooms, a river and waterfall features, paludariums (biomes that contains land and water features) and a four-storey living wall.
The ground floor and part of the first floor will also contain retail space.
The Spheres include a visitor center called "the Understory" that will be open to the public all year round.
A 30m-high treehouse called the bird's nest will serve as a meeting room.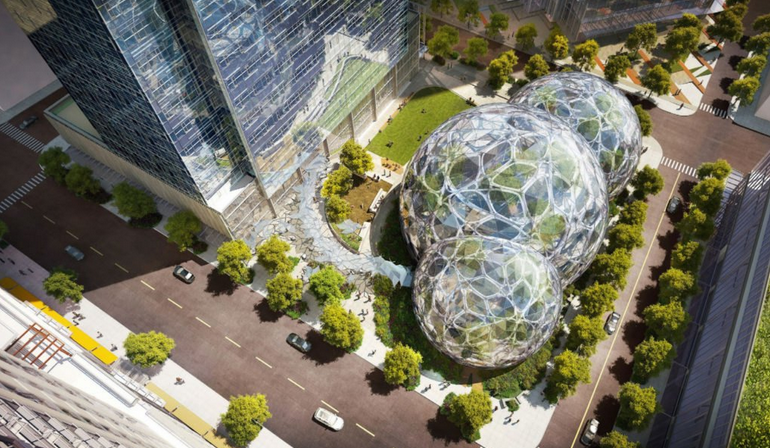 The largest of the three spheres is 24m tall and 40m in diameter.
The Spheres' façade has 2,643 panes of glass that contain a film interlayer to keep out infrared wavelengths that produce unwanted heat.
During construction, 620 tonnes of steel and 12 million pounds of concrete were used.
The Spheres largest inhabitant, a rust fig called "Rubi", was planted at a tree farm in California in 1969. Today, Rubi is 16.7m tall, 6.7m wide and weighs nearly 36,000lbs.
John Schoettler, Amazon vice president of global real estate, said: "Our goal with The Spheres was to create a unique gathering place where employees could collaborate and innovate together, and where the Seattle community could gather to experience biodiversity in the center of the city."
Images courtesy of Amazon/NBBJ