Seven of the ten US states that lost the most construction jobs last year voted for Donald Trump in the 2016 presidential election, three only narrowly.
Since construction is one of an economy's bellwethers, the data may cause some concern to the president's campaign for re-election on 3 November this year.
In that campaign, the economy is set to be a main pillar.
Trump told his audience in Davos on 21 January: "Today, I'm proud to declare that the United States is in the midst of an economic boom the likes of which the world has never seen before."Â 
The highest number of job losses – 9,000 – occurred in Ohio, one of the six states that Republican candidate Trump won from the Democrats, surprising the nation.
Two other swing states, Pennsylvania and Michigan, also recorded net construction job losses, albeit much smaller (see tables), between December 2018 and December 2019, according to data released 24 January by industry body, the Associated General Contractors of America (AGC).
On the plus side for Trump, among the 10 states that gained the most construction jobs last year, five are in states where Trump won by a slender majority of around 52% or less, thus potentially bolstering his prospects for holding those states.
Head and shoulders above the rest was Texas, which gained a whopping 55,000 construction jobs, and which Trump took with 52.23% of the votes in 2016.
In second place was Florida, which gained 25,000 jobs. There, Trump's 2016 vote share was 49.02%.
Also in Trump's favour, in four of the highest job-losing states, Trump's share of the 2016 votes was comfortably large, from just over 58% in Louisiana, which lost 7,000 construction jobs, to 68.5% in West Virginia, which lost 3,400 jobs.
In these states there is a greater chance that strong support for Trump will act as a buffer against any bad sentiment over construction job losses.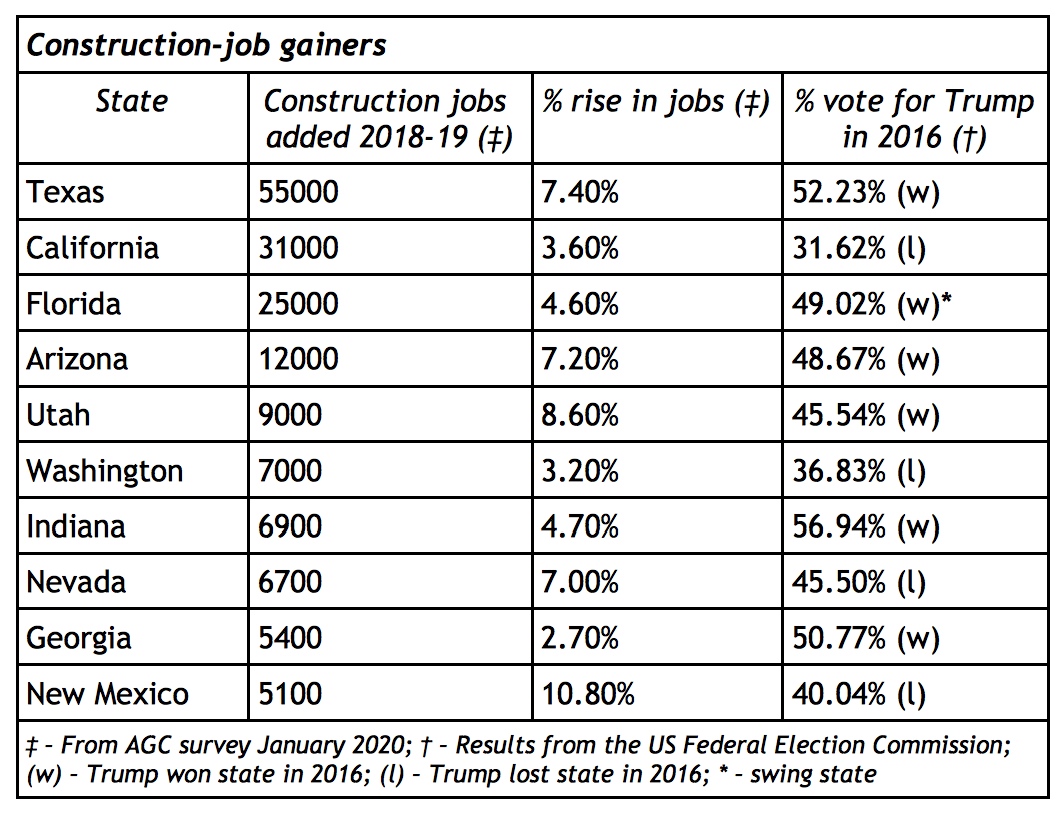 Overall, the picture is is one of construction expanding, with the AGC reporting that 34 states (of 50) added construction jobs in the year. A majority of construction firms expect difficulty filling vacancies, the AGC reported.
But with America's electoral college system, which balances the national popular vote against each state's "electors", the mood in each state matters as much as the overall picture.
Construction is but one sector of the US economy and, in a poll this week by ABC News, 56% of respondents approved of Trump's handling of it – a rise of ten points on a similar poll in September. 
There are still nine months to go. Trump's campaign will hope good news on the economy "trumps" any fallout from the impeachment process, and so it can afford to take nothing for granted.
The AGC's data can be downloaded here. 
Top image: A construction site in Austin, Texas. Texas gained a whopping 55,000 construction jobs last year (Noamfein/Dreamstime)