6 May 2014
Arabtec Holdings, the largest construction company in the Gulf, has revealed a four-year plan to become one of the 10 largest contractors in the world by 2018.
Hasan Ismaik, the firm's chief executive, outlined the company's strategy at its annual meeting last week. He said growth would be boosted by a programme of acquisitions around the world, principally in the energy sector, although firms building ports, airports and railways would also be targeted.
He told reporters after the meeting that the progress of this plan would be marked by a series of listings on international exchanges: London in 2015, Hong Kong in 2016 and New York in 2017.
Ismaik told investors who had gathered at the St Regis Hotel on Abu Dhabi's Corniche Road: "We want to be a big success story. We want to develop from a regional company to an international company operating under international regulations. We're asking you to support us and take a longer view on the company and, in the next two to four years, you will profit incredibly. We want Arabtec to be a company that we can pass on to our children and the next generations."
He indicated that talks were in progress over the first acquisition. He said: "There are only 30 international companies that are heavily focused on oil and gas and infrastructure. We are speaking to one of them. Once we reveal it in due course, the name will surely surprise you."
At the end of last year, the firm was rumoured to be considering a takeover of Drake & Scull.
A company in a hurry
Although it is the largest contractor in the Gulf, the Dubai firm is not particularly big in world terms. With a turnover of $1.5bn, Arabtec Construction, the firm's main contracting subsidiary, is presently ranked in 151th in Engineering News-Record's list of global contractors. The immediate aim is to reach the 50 to 70 range by the end of this year and to break into the top 10 in 2018.
To fulfil Ismaik's timetable, Arabtec will need a large acquisition fund. The company's market capitalisation has risen from $540m in 2012 to $7.6bn this year, and the firm's main investors have deep pockets: Aabar Properties, a developer ultimately owned by the government of Abu Dhabi, took a 21% stake in 2012.
Arabtec Holdings is also aiming to raise money from the capital markets and its own shareholders. Ismaik announced at the annual meeting that a 40% stake in Arabtec Construction would be listed on the Abu Dhabi stock exchange in 2015. He also asked investors to to accept a 40% dividend in bonus shares rather than cash.
Ismaik added that, if necessary, Arabtec would raise up to 30% of the acquisition price through convertible bonds.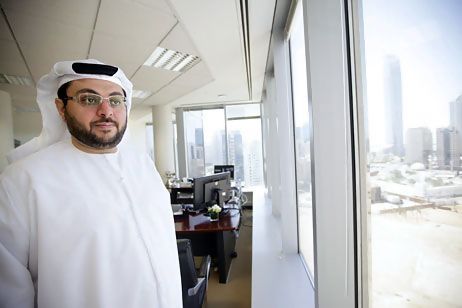 Hasan Ismaik: the Abu Dhabi businessman who is driving Arabtec's ambitious growth strategy
Until recently, Arabtec was associated with Dubai's 21st-century building boom in general, and the Burj Khalifa in particular. But since its virtual takeover by Aabar it has become increasingly linked with Abu Dhabi, which is the richer of the two emirates.
The growth plan reflects the increasing control that Aabar has taken over the firm. Last year it replaced four members of Arabtec's board, including former chief executive Riad Kamal, with its own candidates. The chairman of Aamar, Kadem Abdulla al-Qubaisi, has become Arabtec's chairman and Ismaik himself is an Abu Dhabian private investor.
A golden year
Arabtec has expanded rapidly into the wider Middle East and North African (MENA) region, building up contracts worth a total of $54bn.
So far, 2014 has been a golden year for Arabtec. Among the highlights are:
In February it opened subsidiaries to focus on water and energy projects inside the UAE. It also created an Egyptian arm and a capital funding subsidiary. A regional office was opened in Baghdad, and the company said it viewed the reconstruction of Iraq as its most lucrative market in the future.

Also in February the firm signed a $6.1bn memorandum of understanding to build 37 mixed-use, residential and hotel towers in Abu Dhabi and Dubai for Aabar and won a $272m mechanical, engineering and plumbing contract in Kazakhstan.

In March, it was awarded a $40bn contract to build one million affordable homes in Egypt.
The firm's investors have reacted to this flow of good news by tripling its share price since January; Arabtec's profit for 2013 rose 170% to $100m.
Arabtec Holding announced on Sunday the appointment of Iyad Abdalrahim as its chief financial officer, who joined the company in 2013 as the CFO of Arabtec Construction Group. He previous held positions with Standard Charter Bank and Arab Bank and has a background in corporate restructuring, financing and initial public offering management.
Abdalrahim is responsible for overseeing Arabtec's financial activities, including the planning, control, financing, reporting and management information system for the company, its projects and its subsidiaries.