Specialist sports designer Populous has unveiled plans for a 68,000-capacity arena in San Diego.
If it goes ahead, the $1.1bn venue will be built on the Qualcomm Stadium site in Mission Valley and will be the home of the San Diego Chargers, an American football team.
The design was commissioned only six weeks ago and has sparked anger, with Mark Fabiani, a former deputy mayor of Los Angeles saying: "Never before in California history has a controversial, billion-dollar project relied on environmental review documents hastily prepared in three weeks."
Public money was provided after the Chargers threatened to move further into Los Angeles and away from their home city.
The spending of public money on facilities for privately-owned sports teams is an increasingly controversial issue in America, and the decision to finance a stadium for the Chargers was recently the subject of a satirical monologue on HBO's Last Week Tonight with John Oliver show.
Populous says the design was inspired by the "ocean's waves" and also celebrates San Diego as a "city of villages". The arena will be cloaked in a "kinetic skin" that will move with the wind and imitate the sound of the ocean. Populous have promised that the materials will not turn out to be a "maintenance nightmare".
Taxpayers are being expected to pay for around a third of the stadium.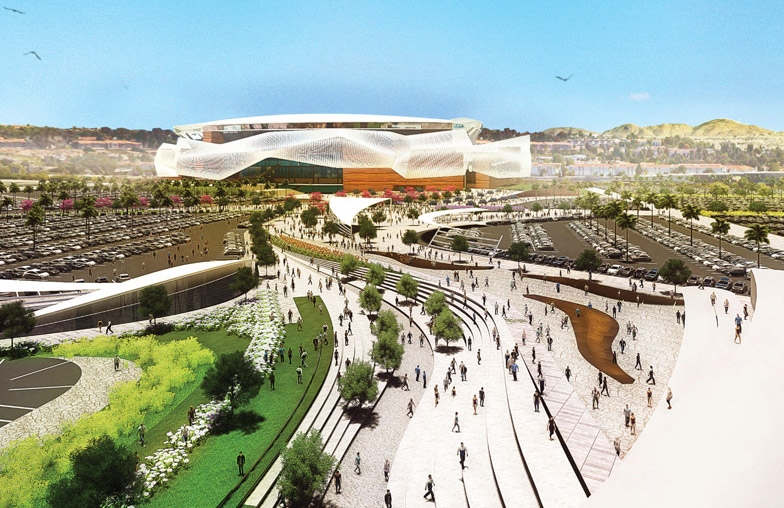 The site will also contain a fan park, a VIP atrium, hall of fame and landscaped promenades.
If the project goes ahead it is due to be completed in 2019.