Arup has been selected by the municipality of Amsterdam to develop HAUT, the highest wooden residential building in the world to date, counting 21 floors.
Announcing the project win today, Arup said it would work in partnership with Lingotto, Nicole Maarsen, TEAM V Architecture and Nederlandse Energie Maatschappij.
The 73-metre-high residential tower located in the Amstelkwartier will include 55 apartments and an underground car park.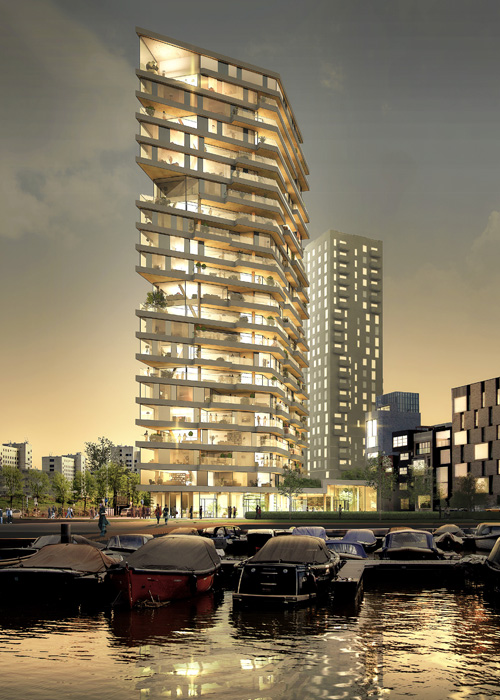 Artist's render of HAUT, set to be the highest wooden residential building in the world (Arup)
It will have a total gross floor area of approximately 14,500 sq m and is intended to receive the BREEAM Outstanding label, the highest possible sustainability score.
"Building in wood is one of the most talked about innovations in sustainable construction internationally, due to the large storage capacity of CO2," Arup said. "Using wood provides an answer to the Municipality of Amsterdam's quest for CO2 neutrality."
Arup said HAUT's wood can store over three million kilograms of CO2. Photovoltaic panels will help the building produce renewable energy, while waste water will be purified through a constructed wetland on the roof.
The design will offer the first buyers "unlimited freedom of choice in dwelling size, number of floors and the location of rooms, outdoor spaces and voids", Arup said.
It added: "Within a strong and simple façade design, with white-gray floor tapes and high windows, the balconies seem to have randomly been slid in and out. The wooden ceilings of balconies and large overhangs on the sharp corner at the Spaklerweg make HAUT's architecture expressive and iconic."
Arup is providing multi-disciplinary engineering services, including building services engineering, fire, acoustics and building physics consulting.
Amstelkwartier, the new district on the Amstel encompassses about 4,000 homes, shops and businesses.
At this point approximately 1,000 homes have been completed and the first school has been opened.