2 July 2013
The volume of the world's construction output will grow by more than 70% to $15 trillion worldwide by 2025, with China, India and the US accounting for 60% of that growth, according to a new report.
And a new generation of 'Asian Tigers' including Indonesia, Vietnam and the Philippines will provide global built environment firms big opportunities as these countries accelerate their development and become more attractive for export-oriented manufacturing.
They represent a $350 billion construction market growing at more than 6% annually, says the global study, "Global Construction 2025", produced by Global Construction Perspectives and Oxford Economics, co-sponsored by the Chartered Institute of Building.
The findings point to the shift of global economic dynamism West to East, the report's authors say.
"World construction markets are at a tipping point already with 52% of all construction activity in emerging markets today," said Graham Robinson, Executive Director, Global Construction Perspectives.
"We expect to see this increasing to 63% by 2025, with China and India contributing most to growth in emerging markets,"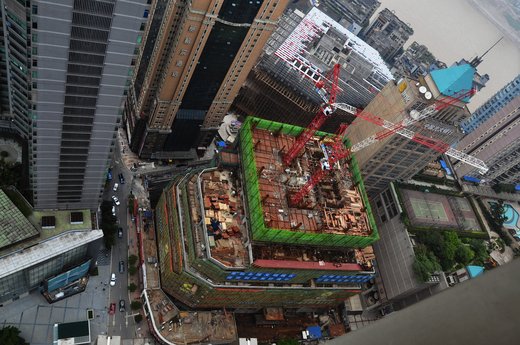 Tall towers under construction in Chongqing, western China (applh/Wikimedia)
China overtook the US to become the world's largest construction market in 2010, the report notes, and is expected to increase its global share from 18% today to 26% in 2025, despite an expected slowdown.
Meanwhile, continental Western Europe is facing a "lost decade" with no end in sight for the combined effects of population decline, sovereign debt pressures and economic stagnation.
The report says Western European construction output will be almost 5% smaller in 2025 than its pre-recession peak in 2007.
The UK bucks that trend, however, the report claims. It says the UK's pressing need to modernise its infrastructure and address its housing deficit, plus new investment from China and the Middle East, will lead to a construction output growth rate double that of Western Europe's to 2025.
Across the Atlantic, the study predicts strong growth for North America. The market there will grow 40% by 2025 as both Canada and the US experience population growth and cash in on new sources of hydrocarbons, such as shale gas and oil sands.
India will overtake Japan as the third-largest construction market with annual growth averaging 7.4% in construction expected to exceed that of China, the report says.