Atkins has completed the design and supervision of a major airfield reconstruction project in Martinsburg, West Virginia, to accommodate the C-5 Galaxy, one of the world's largest transport aircraft.
The work at the Eastern West Virginia Regional Airport, which doubles up as the Shepherd Field Air National Guard, was to extend the runway by 1,800 feet and realign, widen and extend the eastern portion of the primary taxiway.
Following the completion of the project, the base is now home to 11 of the "monster" aircraft, Atkins said.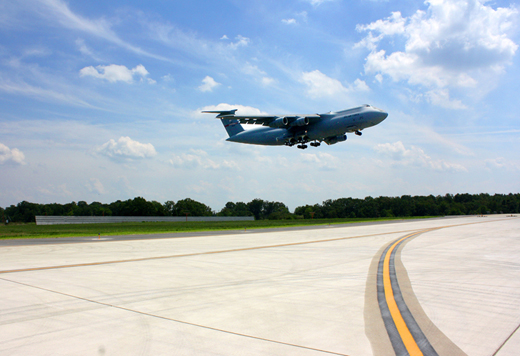 The C-5 gives the US Air Force heavy intercontinental airlift capability
The C-5 provides the US Air Force with a heavy intercontinental-range strategic airlift capability, one that can carry outsize and oversize cargos, including all air-certifiable cargo, and a fully equipped combat-ready military unit to any point in the world on short notice and then provide the supplies required to help sustain the fighting force. It has also been used to distribute humanitarian aid and disaster relief, and support the US Space Shuttle program.
Planning was crucial to the programme as a minimum of 3500 feet of the airfield had to remain open during the upgrade to accommodate the smaller general aviation traffic. Construction of the extended runway had a time limit of five months, which included the removal of some 700,000 cubic yards of dirt and rock, before the airfield took delivery of its first C-5 aircraft.