UK-headquartered consultant Atkins has been commissioned to design a new central leisure area in the remote oil city of Karamay, China's richest city based on GDP per capita.
The Donghu leisure park, which evolved from Atkins' masterplan completed last year, will feature landscaped scenic parkland, white water rafting, a lake and a single span bridge.
Atkins says the project, commissioned by the Karamay Construction Bureau, will be its biggest and most complex multidisciplinary project on the Chinese mainland to date. The project is also the company's first bridge design commission.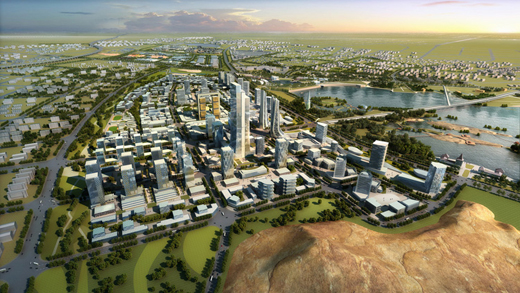 Artist's rendering of the new central business district and Donghu leisure park in China's remote northwest (Credit: Atkins)
Extreme temperatures in the semi-desert oil region, in China's far north-west near the border with Kazakhstan, present design challenges. Local temperatures range from minus 30 degrees C in winter to over 42 degrees C in summer.
Clive Horsman, Atkins' director for landscape in Asia Pacific, said: "This presented particular problems for keeping the area well irrigated in the summer as well as dealing with the winter freeze, but we have largely dealt with that by using natural resources from the nearby northern mountains."
He added: "The construction of the bridge had to be carefully planned to take account of the freezing and expansion challenges which meant looking closely at material choices and specifications."
The park covers an area of approximate 3 sq km and features a 1.8 sq km lake which connects the future central business district with the city centre.
Karamay boasts the highest GDP per capita in China due to its connection with one of the country's biggest oil fields. Founded 50 years ago, it has a population of 400,000 people and city leaders want to double that by 2050 by attracting engineering and automotive industries.