12 April 2013
Australia has launched a public consultation on a proposed 1,748km high-speed rail (HSR) network that would link Brisbane to Melbourne, taking in Canberra and Sydney along the country's east coast.
This follows the publication of a three-year study led by Aecom which estimates it will cost $114bn and would take until 2065 to build.
The report said the HSR network wouldn't make a big profit, and that governments would have to fund its construction.
But it said that if projections of 84 million passenger journeys per year were accurate the HSR system could fund itself.
Australia's infrastructure minister Anthony Albanese said the network had the potential to "transform the way Australians live, work and take holidays".
"It also has the capacity to better integrate our regional and metropolitan communities, ease congestion on our roads as well as provide a new foundation for a low carbon, high productivity economy," he said.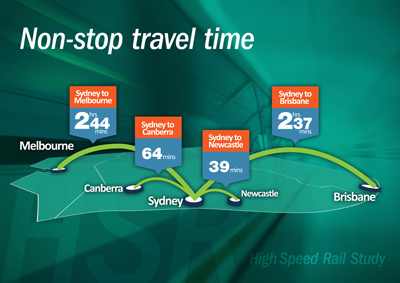 The $114bn network would just pay for itself.
"But equally," he said, "HSR would be a monumental endeavour, with very real technical, logistical and financial challenges. That's why we must take a deliberate, thoughtful approach and this report provides a comprehensive analysis on which an informed public debate is now possible."
Matthew Burke, research fellow at Griffith University, said the plan wouldn't work because Australian cities are small compared to cities served by high-speed rail in Europe and Japan.
The study was produced by a consortium led by Aecom that included Grimshaw Architects, KPMG, Sinclair Knight Merz, Acil Tasman, Booz & Co and Hyder.
Interested parties have until 30 June to comment.