25 June 2013
A $1.6bn redevelopment of the Port of Melbourne is nearly underway as six leading Australian construction specialists have now been shortlisted to win two significant contracts.
Port of Melbourne Corporation CEO Stephen Bradford said the works would deliver the 'backbone' infrastructure needed for a third international container terminal and a world class import/export motorised facility within the port's Webb Dock precinct.
Maritime works include dredging 2.3 million cubic metres within the dock and replacing the original island pontoon with a new 920m wharf, reports DredgingToday.com.
The civil works package involves the construction of new roads linking the terminal to Melbourne's freeway as well as installing services and utility access for the 175ha landside area.
The civil and maritime contracts will be delivered under a 'value managed' design and construct system and must have minimum impact on port trade.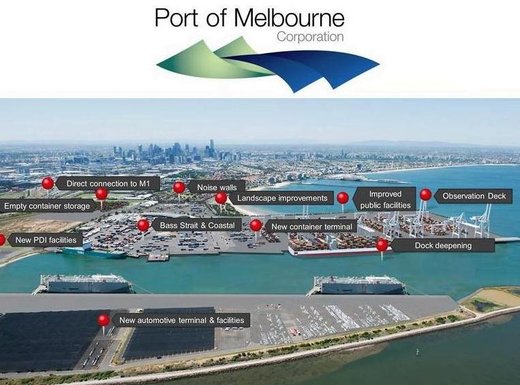 The Port of Melbourne will have a new 920m wharf and 175ha area (Credit: Port of Melbourne Corporation)
"This is a major undertaking; however the successful civil and maritime contractors will have to undertake these works in the middle of a busy, working port while meeting the stringent conditions of the Project's Environmental Management Plan," Bradford said.
Both contractors will be encouraged to use local suppliers in order to boost Victoria's economy during construction.
The successful bidder for the civil package will be appointed later this year and the maritime contractor early to mid-2014.
Short-listed bidders for the civil contract are BMD Constructions Pty Limited, Fulton Hogan Construction Pty Limited and John Holland Pty Limited.
Maritime short-listed bidders are Baulderstone Pty Limited, Leighton Contractors Pty Limited and McConnell Dowell Constructors Pty Limited.
Source: Dredgingtoday.com