The prime minister of the Bahamas has lashed out at ratings agency Standard & Poor's (S&P) for lowering his country's investment grade to just above so-called "junk" status due to the deeply troubled, $3.5bn mega resort, Baha Mar, and other issues.
Perry Christie (pictured) said S&P's assessment did not "match up to reality", and was "downbeat" and "unfortunate".
Last week S&P lowered its credit rating on the Bahamas one notch from "BBB/A-2" to "BBB-/A-3", the last rung up from the "non-investment" grades, often referred to as "junk".
I am confident that we are on the cusp of a stronger, more prosperous and modern Bahamas– Prime Minister Perry Christie
Justifying its decision S&P cited "growth bottlenecks" including household indebtedness, high unemployment and energy inefficiencies, but singled out the stalled Baha Mar project as a factor that will depress growth and possibly even affect the country's fiscal and external accounts.
Expected to employ nearly 5,000 people among a total population of around 377,000, the resort and casino complex, built and financed mostly by Chinese state-owned enterprises, is seen as a project of national significance in the Caribbean nation.
It was supposed to open in December last year, but work has stalled amid a complex legal wrangle among developer Baha Mar Ltd., the contractor China Construction America (CCA), main financier China's Export-Import Bank, and the Bahamian government.
The legal disputes bloomed after Baha Mar Ltd. filed for bankruptcy protection in the US on 29 June.
In lowering its rating of the Bahamas on 25 August, S&P said it did not believe the parties involved could resolve their differences in time for the resort to open for the high season beginning in December 2015.
"Not only do we see the completion of construction of this $3.5 billion mega-resort being delayed, but we also expect that bookings will take longer to fill the complex once it does open, given the reputational damage to the resort's brand as well as the time needed to obtain new airlift capacity for the resort, among other issues," S&P said.
The government's ongoing handling of the affair could also affect S&P's judgement as to its next move, the agency said, concluding that the combination of factors would put the Bahamas on a path of low growth, with real GDP per capita growing less than 1% over the next several years.
The sting of S&P's assessment was soothed somewhat this week when another ratings agency, Moody's, said on 31 August that it would maintain its rating of 'Baa2' for the Bahamas.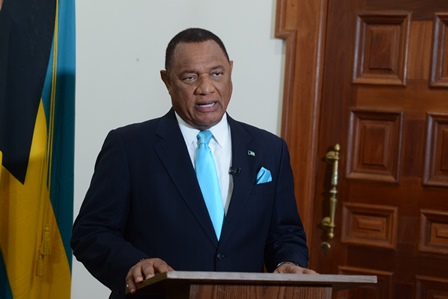 The Bahamas Prime Minister Perry Christie announcing his government's winding-up petition on 16 July (Bahamas Information Services)
Moody's said Baha Mar would only affect the Bahamas' creditworthiness if it was still not open by the second half of 2016.
However, speaking to the country's House of Assembly this week on 2 September Prime Minister Perry Christie criticised S&P's assessment and sought to reassure lawmakers that his government was doing all it could to resolve the Baha Mar issue.
The agency also warned that there was a "greater than one-in-three likelihood" that it would lower its rating on the Bahamas again within six to 24 months if the Baha Mar proceedings have knock-on effects on the island's growth prospects beyond S&P's current estimates.
"Mr Speaker let there be no doubt either in this honourable House or among the Bahamian public, that the government is firmly committed to a timely resolution of the Baha Mar matter and the completion of the project, in a manner that will serve in the best interest in our country," Christie said, according to Bahamian newspaper The Tribune.
"Despite that S&P takes a dim view of prospects for the project and suggests that as a result, real GDP per capita in the Bahamas will barely grow at all over the next several years. Mr Speaker such a downbeat assessment simply does not match up to reality. And in fact, it also flies in the face of some of the evidence that S&P itself presents in its report."
Christie continued: "It is widely known that a prime prerequisite for a solid credit rating, strong investor confidence and buoyant economic growth is a sound and sustainable public finance framework. The government has been working diligently over the past three years to effect critical reforms to the major components of the fiscal accounts on both the expenditure and revenue sides."
According to the newspaper, Christie called S&P's assessment "unfortunate" saying that it failed to fully and properly account for the government's proactive and dynamic growth agenda in its analysis.
"I am confident that we are on the cusp of a stronger, more prosperous and modern Bahamas for all Bahamians," Christie said.
Photograph: The Bahamas Prime Minister Perry Christie announcing his government's winding-up petition against Developer Baha Mar Ltd. on 16 July (Bahamas Information Services)