Balfour Beatty's Hong Kong-based joint venture, Gammon Construction, has won a US$705m theatre project.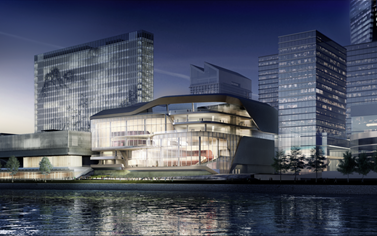 Render of the completed Lyric Theatre Complex (Balfour Beatty)
The West Kowloon Cultural District Authority (WKCDA) has hired Gammon to build the final stage of the Lyric Theatre, including building a 1,450-seat main theatre, a 600-capacity medium theatre, a 270-seat studio theatre, as well as dance and rehearsal studios, restaurants, offices and a ticket desk.
Gammon has previously worked on the foundation of the Lyric Theatre Complex and earlier this year won a $193m contract for excavation works and further construction.
Thomas Ho, Gammon chief executive, said: "We are delighted WKCDA has once again selected Gammon to work with them for what will be the final stage of this world-class arts and cultural facility.
"Our skilled professionals will bring the level of service and quality necessary to realise the architect's vision on this complex project, for the benefit of the dance and theatrical communities of Hong Kong and its patrons."
Construction on the project is due to start in autumn 2019 and be completed by 2023. Some 1,700 staff will be employed at the height of construction.
Atkins was announced as project manager of part of the WKCDA in 2014.