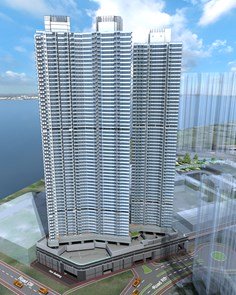 Image courtesy of Gammon Construction
Balfour Beatty's Hong Kong-based joint venture, Gammon Construction, has won a US$500m contract to build three residential towers in the eastern Sai Kung District of the special administrative region.
The scheme, which will be called Lohas Park Package 9, will be between 54 and 56 storeys high, and its towers will emerge from a shared five-level podium.
The scheme is being developed by local property company Wheelock and Company. Thomas Ho, Gammon Construction's chief executive, said it was the fourth project Gammon would be delivering for Wheelock in the Tseung Kwan O bay area.
Gammon plans to employ 1,500 staff at the peak of construction and was planning to use BIM and 3D scanning to "ensure safe and efficient project delivery".
The firm is targeting "HK BEAM Plus Standards", an initiative from the non-profit Hong Kong Green Building Council Limited, aiming to "reduce the environmental impacts of a new building while also improving environmental quality and user satisfaction".
"Gammon's technical competence and its expertise in high quality developments have enabled us to secure this prestigious contract." Â 
Work on the project is due to begin in spring this year and is due to be completed in 2021.
Earlier this year Gammon won two contracts worth $994m in Hong Kong.