Danish architect Bjarke Ingels Group (BIG) has unveiled plans to turn the four chimneys of London's Battersea Power Station into the world's largest Tesla coils.
The system works by wrapping two coils of wire around each other and passing a high voltage, low current charge between them.
The process, which was invented by Serbian electrical engineer Nikola Tesla, produces spectacular bursts of electricity.
The largest Tesla coils in the world so far are about 100ft tall – these would be 300ft. They would be partly powered by visitors walking on a piezoelectric pavement located on a public square next to the structure.
Bjarke Ingels outlined his idea at a lecture at the Royal Academy.
He said: "We're working with experts in Tesla coils, looking into how to incorporate them into the chimneys so essentially we might celebrate the transformation from carbon footprint to human footprint.
"We imagine it like Big Ben: when the clock strikes the hour, we can have this celebration of human energy and human life.
"It could be interesting to create a public artwork that ties into the heritage of the power plant.
"We don't have coal any more but we do have 50,000 people passing by every day."
The pavement could generate a kilowatt of energy form the piezoelectric effect, according to Ingels.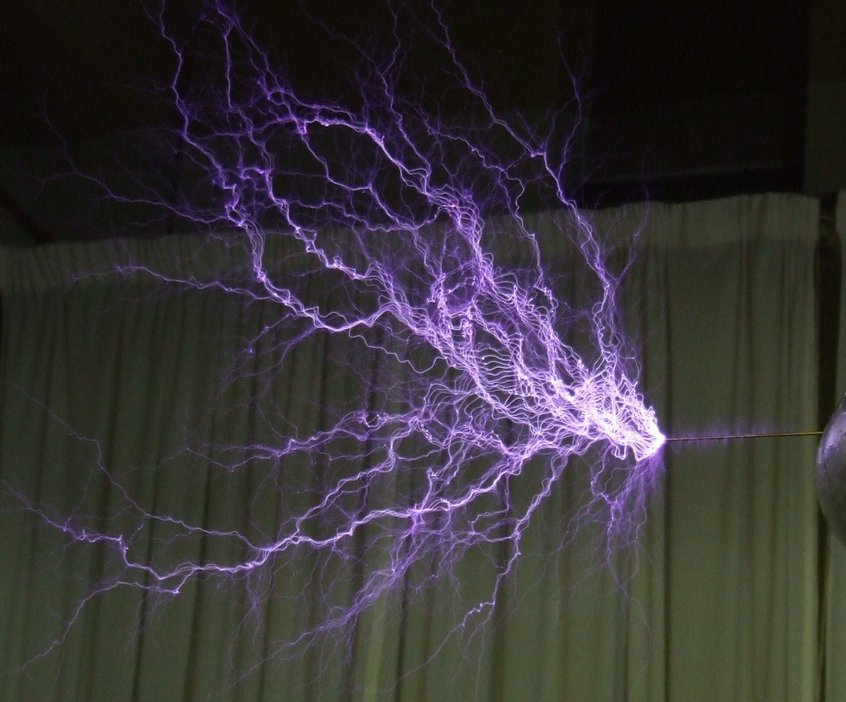 Electric discharge showing the lightning-like plasma filaments from a Tesla coil (Lantresman/Wikimedia Commons)
It was announced last October that Sweden's Skanska had been awarded the contractor's role in the $4.8bn redevelopment of Battersea Power Station.
A Battersea Power Station tube stop is due to be built on the Northern Line.
The project is due to be completed in 2019. The coil idea has not yet been approved.
Images: BIG's design for Battersea Power Station (Battersea Power Station Development Company)