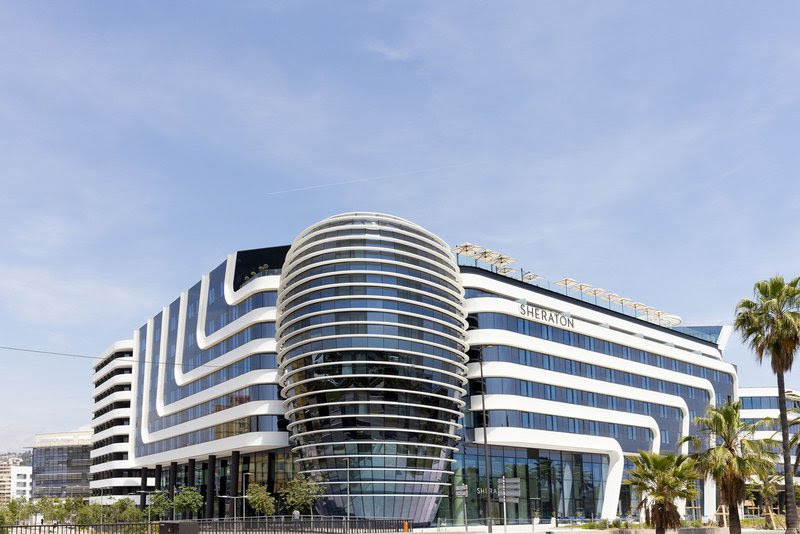 Besix France has now delivered all three buildings of the "Nice Airport Promenade", a significant real estate play begun just before the Covid pandemic amid tight logistical constraints.
Backed by Groupe Aéroports de la Côte d'Azur, AG Real Estate and Citygate, the complex is located opposite Terminal 1 of Nice-Côte d'Azur Airport, and is the flagship project of Nice's new business district, the Grand Arénas.
Now complete is a 25,000-sq-m, 234-room Sheraton hotel with retail and a rooftop bar giving views of mountains and sea, designed by the American agency Arquitectonica.
Besix handed it over last month and the hotel opened on 25 May. The first two buildings, dedicated to offices and housing, were delivered in 2021 and early 2022.
The work, which began in 2019, was carried out by Besix and included demolition, site clearance and earthworks, as well as the entire construction of the project, from the shell to the finishing touches.
"In addition to the challenges imposed by the Covid-19 pandemic, this was a complex project," said Andres Penaloza, Director Besix France, "particularly because of its location, in direct proximity to the airport, a tramway line and the Promenade des Anglais, which reduced our room for manoeuvre in terms of accessibility, logistics and tower crane placement."