Danish architect Bjarke Ingels Group (BIG) has redesigned a replacement for the National Theatre of Albania that will include three indoor performance spaces, a rooftop amphitheater and a public space underneath the building.
The 9,300 sq m venue is located in Skanderbeg square, adjacent to the National Opera and the National Art Gallery in downtown Tirana, Albania's capital.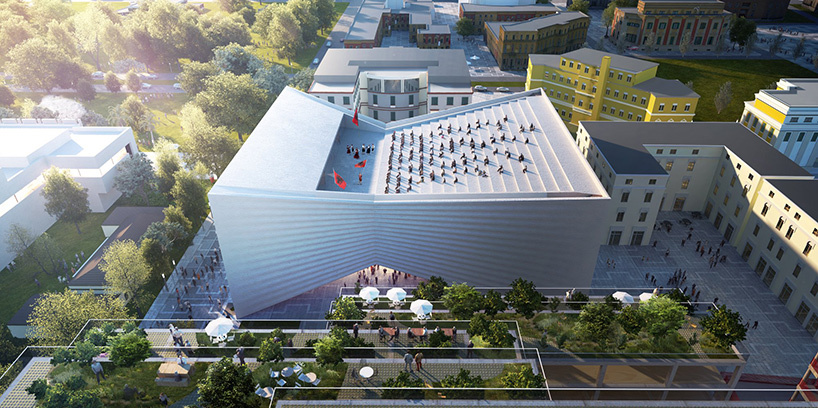 The centre of the bow-tie shaped structure is raised up from the ground, with two buildings either side connected through a central auditorium. The gap underneath the prism-shaped central building creates a public walkway.
The roof of the building will contain a second venue and a café, giving visitors a view of Tirana.
Bjarke Ingels, BIG's founding partner, said: "Our design for the National Theatre of Albania will continue the city's efforts at making Tirana's public spaces more inviting and its public institutions more transparent.
"The two main facades of the National Theatre of Albania are opened up to expose the spaces inside the building out to the public. One side reveals the foyer, lounge, bar and restaurant as well as the two experimental stages to the passers-by, like rooms in a doll house.
"The other side reveals the entire section of the backstage, side stages, under stage and fly tower, exposing the entire theater machine to the curious observers.
"Where a theater typically wouldn't be open to the public until the early evening, the new Albanian National Stage will become a spectacle of production as well as performance throughout the day."
Images courtesy of BIG