Danish architect Bjarke Ingels Group (BIG) has designed a twisting bridge-cum-museum over the Randselva river in the Kistefos Sculpture Park in southern Norway.
The second bridge in northern Europe's largest sculpture park, the 1,000 sq m "Twist" doubles as indoor exhibition space.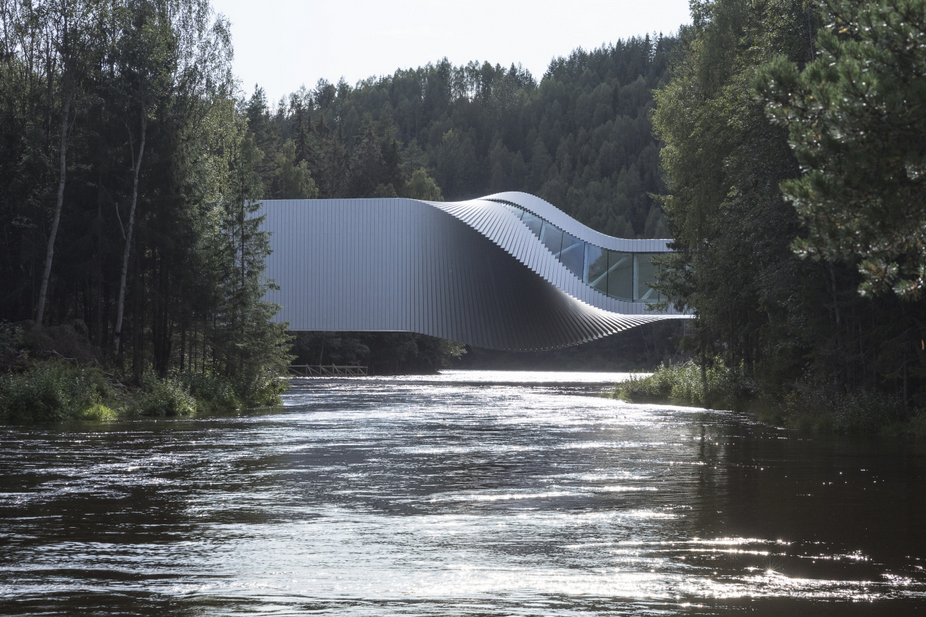 From the Twist's southern side, visitors cross a 16m aluminium-clad steel bridge into a double-height space, with a view through the whole structure. Those entering from the north side will use a 9m pedestrian bridge.
The structure's exterior is clad in 40cm-wide aluminium panels arranged like a stack of books, fanning out to create a curved effect. The interior contains white-painted 8cm-wide fir slats cladding the floor, wall and ceiling. BIG comments in a press statement that visitors will "experience the twisted gallery as though walking through a camera shutter".
Bjarke Ingels, BIG's founding partner, said: "The Twist represents a new challenge for the exhibiting artists and artworks to engage with, and I am particularly excited to see how the work of two artists – Hodgkin and Creed, a visual artist and a performance artist – has turned this spatial problem into a great potential."
Kistefos Sculpture Park contains site-specific works from Anish Kapoor, Olafur Eliasson and Jeppe Hein, among others.
Images courtesy of Bjarke Ingels Group