Danish architect Bjarke Ingels Group (BIG) has unveiled its loopy design for a smartphone company's headquarters in Hangzhou, about 160km southwest of Shanghai.
The building was commissioned by OPPO, China's largest smartphone company for its research division. It also provides a striking gateway for the city's Future Sci-Tech City, a district dedicated to "global technology entrepreneurship".
The O-Tower, as the building will be called, is situated between a natural lake, an urban centre, and a 10,000-sq-m park.
The design envisages a hollow cylindrical building with a looped cut-out to create more surface area, and so more window views for workers inside, including those located by the inner courtyard.
As this will also increases solar gain – an important consideration in Hangzhou's semi-tropical climate – the upper part of the loop acts as a structural brise-soleil, and the façade is wrapped in adaptive blinds that orientate themselves to the sun's position as it changes through the day. According to BIG, these will reduce solar gain by 52%.
The courtyard at the centre of the tower will be accessible to the public, as will the first three floors, which will contain an exhibition space, conference centres and workshops.
The middle floors will house OPPO's R&D departments and administrative offices, and the upper floors will have a canteen, as well as executive and VIP lounges giving views over Hangzhou's wetlands.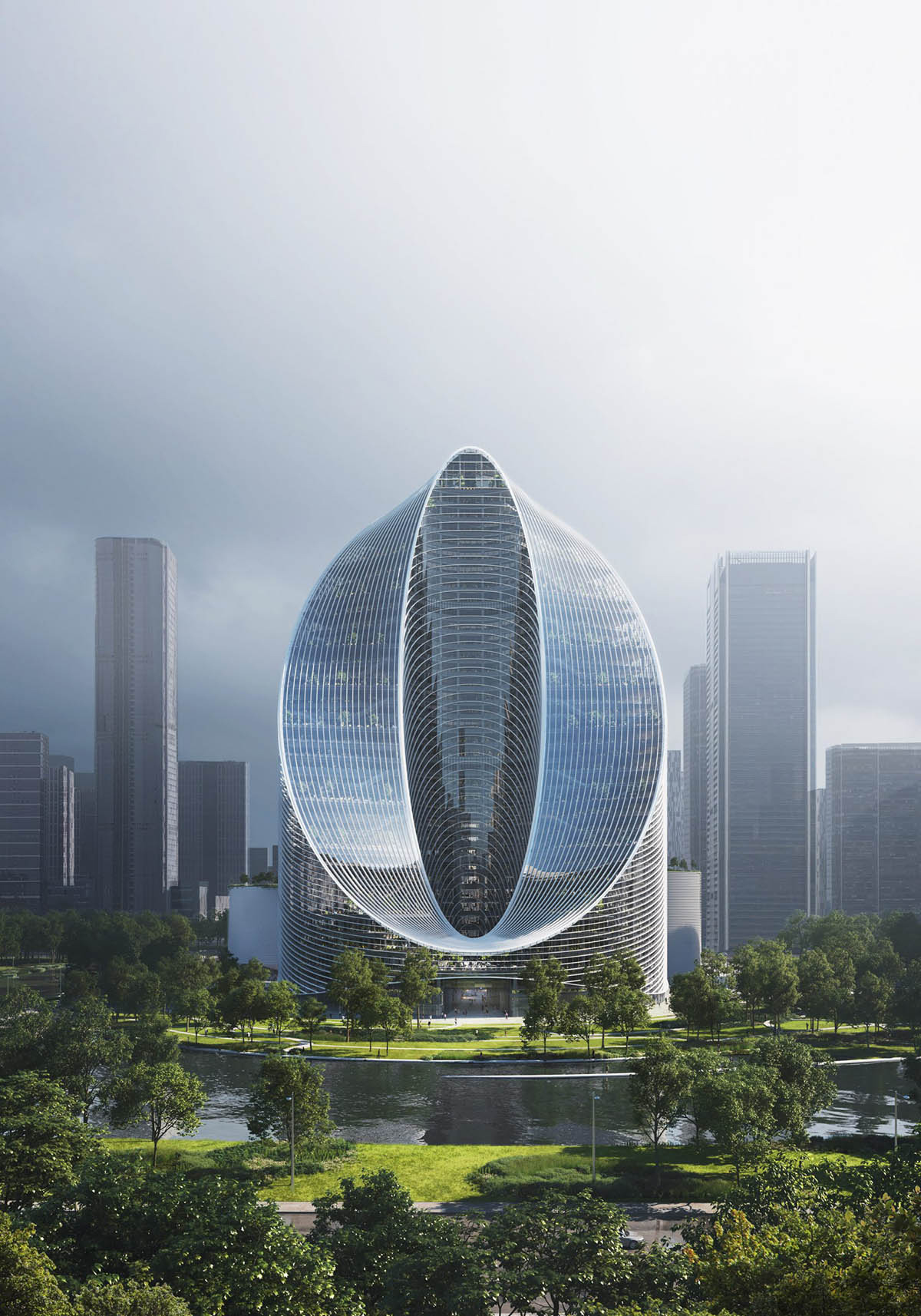 BIG describes the building's geometry as "an infinity loop" (Bjarke Ingels Group)
Bjarke Ingels, the founder of BIG, said: "We have attempted to imagine the future work environment of OPPO to be sustainable on a triple bottom line: economically, ecologically and socially. The compact form folding in on itself provides large flexible floorplates with the daylight access and fresh air of a slender tower."
OPPO is the brand name for the Guangdong Oppo Mobile Telecommunications Corporation, a maker of smartphones, audio devices, and power banks. It was founded in 2004 and has since become the world's fifth largest smartphone company.
Huangzhou is one of China's wealthiest cities, and was rated the world's 26th best for science by Nature Index. It has several major research centres, including the elite Zhejiang University. It is also the hometown of Jack Ma, founder of the Alibaba Group, and Alibaba is one of the main sponsors of the Future Sci-Tech City development.
Hangzhou has proved a lucrative market for European architects in recent years, with UNStudio and Office of Metropolitan Architecture both chosen for prestige projects (see further reading).
Top image: The O-Tower will be located between a park and a natural lake (Bjarke Ingels Group)
Further reading: