BMW is planning to venture into real estate development with a mixed-use "urban hotspot" located in a former paint factory in the Jing'an District of central Shanghai.
The German automotive company will be working with Chinese project developer Nova Property Investment, to develop what it describes as a "multi-layered co-living initiative made up of apartments, working spaces and cultural offerings". Those living there will be "singles, sharers and families on short, medium-term and extended tenancies".
The project aims to promote social interaction with communal spaces such as lobbies, exhibition areas and a food market, which will be open to the public. It will also contain rentable workspaces.
BMW's Mini Living project was launched in 2016 and has previously partnered with architect Asif Khan on a series of temporary "living forests" in east London, and it has completed similar projects in New York and Milan. This six-building development, which will be installed in the factory's retained façade, will be the Munich company's first permanent project.
Peter Schwarzenbauer, a member of BMW's management board, said: "At Mini we are also well versed in the intelligent use of space; back in 1959 the classic Mini was already maximising the experience available within a very small footprint.
"Mini Living brings this know-how from the vehicles we drive into the places where we live. We are rethinking the idea of living space in the city and developing attractive, need-oriented living concepts."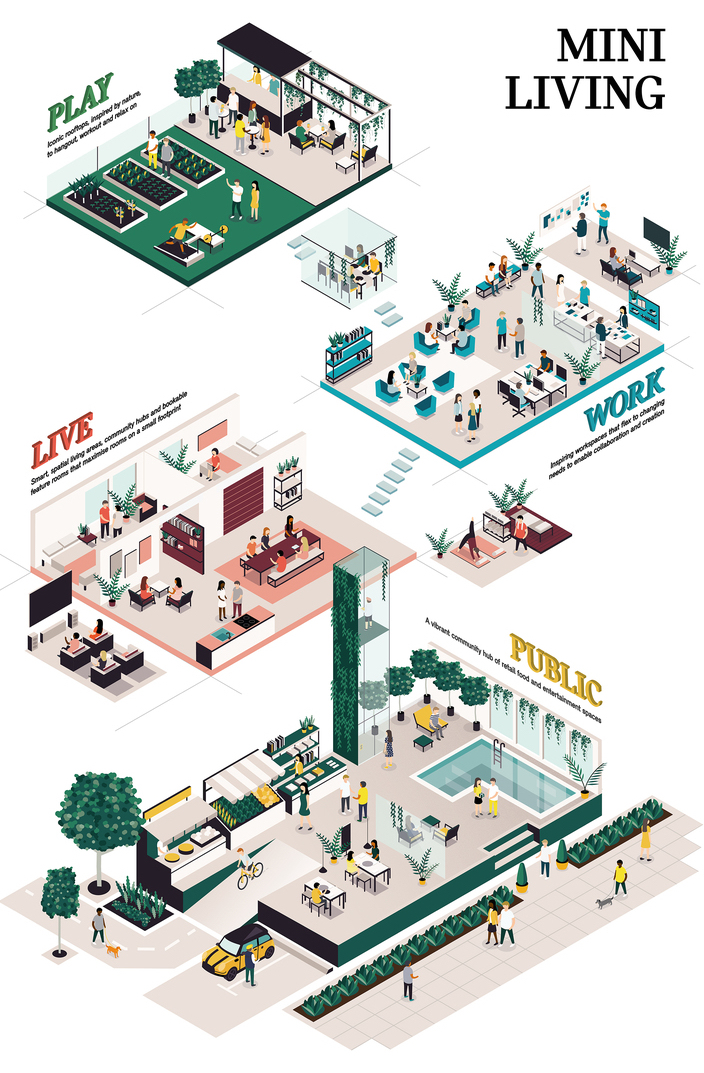 Esther Bahne, head of Mini Brand Strategy and Business Innovation, said: "We're looking to create a genuine alternative within the rental market of big cities. We're offering a place that can adapt to its residents, is flexible and allows room to breathe. Mini Living gives residents privacy, but also enables them to engage with a variety of people."
Construction work is slated to begin before the end of this year
Images courtesy of Mini Living