A number of South Asian states are following international fashion by indicating that they will be reinforcing their political boundaries with physical barriers.
The most ambitious of these projects is Pakistan's plan to build a fence on sections of the Durand Line – its disputed 2,500km border with Afghanistan – and it was announced this week that work on this has already begun.
These are permeable borders; you can't seal them off no matter how hard you try, no matter what high technologies you try to import– Bharat Karnad, national security expert
Pakistani general Qamar Javed Bajwa said the work would focus on "high threat zones" in the Federally Administered Tribal Areas (FATA), which border the eastern Afghan provinces of Nangarhar and Kunar.
In the past, the Taliban has been able to establish bases on the Pakistani side of the line and move across into Afghanistan to supply its troops and launch operations. However, Pakistan's actions has been triggered by attacks carried out on its territory by the Afghan Taliban.
Speaking during a visit on Saturday to the FATA, Gen Bajwa said: "A better managed, secure and peaceful border is in mutual interest of both brotherly countries who have given phenomenal sacrifices in war against terrorism."
Both countries have in the past accused the other of tolerating the presence of the Taliban for geopolitical purposes. Pakistan has been accused of giving aid to the militants, which Islamabad denies. The theory is that Pakistan is using the Taliban to limit Indian influence in the country, and to prepare a safe rear area should war break out with India.
Meanwhile, India has signalled its intention of completely sealing its borders with Pakistan and Bangladesh, around 90% of which have already been fenced off.
Rajnath Singh, India's internal affairs minister, said on Saturday that his country intended to seal off the entire length of its borders with Pakistan and Bangladesh.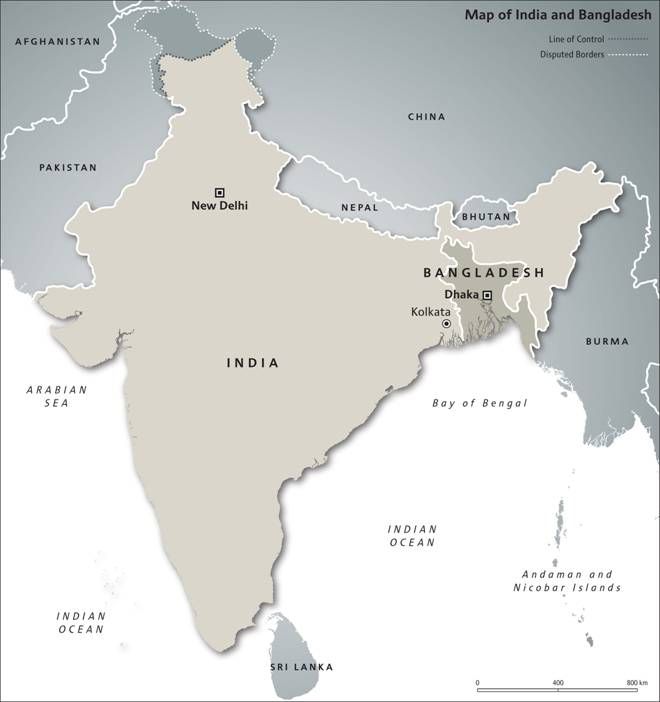 Human Rights Watch's map of south Asia showing India's Bangladesh fence
India's northern border with Pakistan includes the disputed region of Jammu and Kashmir, where a low-level insurgency continues, with two protesters shot dead by Indian security forces this week.
The partially electrified fence on its 4,000km eastern border with Bangladesh was begun in the 1980s to prevent illegal migration into the Indian state of Assam.
Sanjeev Tripathi, an analyst with Carnegie India, told CNN that there may be as many as 15 million undocumented Bangladeshis in India. He added that this has proved to be "a huge challenge for India with serious implications for its resources and national security".
Other commentators were doubtful that a physical barrier would be possible, Bharat Karnad, a national security expert at the Centre for Policy Research in Delhi told CNN: "These are permeable borders; you can't seal them off no matter how hard you try, no matter what high technologies you try to import."
According to a 2010 Human Rights Watch report, between 2001 and 2010, India's Border Security Force shot about 900 Bangladeshis as they attempted to cross the frontier.
Top image: India's border fence seen from west Bangladesh (Nicolas Merky)
Further Reading: