A Chinese state-owned train maker has cracked the US market with an $842m deal to supply hundreds of cars for the Boston subway system.
The first batch of 152 carriages for the city's Orange Line will be shipped there in December from CRRC Changchun Railway Vehicles, a Beijing-based subsidiary of China Railway Rolling Stock Corporation, the world's largest train maker.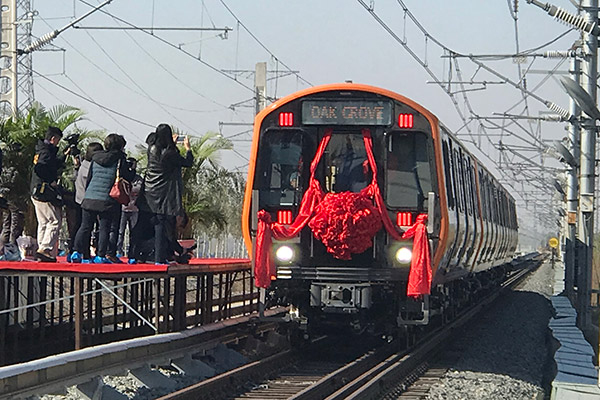 The Chinese cars' livery was chosen by a public vote in 2015 (CRRC)
Another set of 132 cars will follow to replace the Hawker Siddeley Canada units that were installed at the end of the seventies. Altogether the deal is worth $842m.
CRRC had previously won a $137m contract to make heavy rail locomotives from the Southeastern Pennsylvania Transportation Authority, due for delivery in 2019.
The company is building a $95m factory in Springfield, Massachusetts to make them, and future trainsets for Massachusetts Bay Transit Authority (MBTA). This factory expected to begin production in spring next year.
American attitudes to Chinese trains appears to be in flux, as the CRRC Boston deal comes a year after a scheme to build a high-speed rail line between Los Angeles and Las Vegas was scuppered over US government insistence that trains be made in America.
CRRC claims the deal means China's rail vehicle makers are no longer winning contracts on lower prices alone but on design, technology and after-sales services.
These stainless-steel trains have a service life of 30 years and the company claims to have taken 80 measures to cut their weight by 1.8 tonnes.
Jia Bo, vice-president of CRRC's US subsidiary, said CRRC had met more than 120 standards required by US regulators, including the US Environmental Protection Agency, Americans with Disabilities Act and the Public Transportation Safety Act of Massachusetts.
Head of the Massachusetts Bay Transit Authority, Luis Ramirez, said the delivery of the pilot cars "represents an important milestone in the procurement of an entirely new Orange Line fleet".
They will, however, be subjected to "rigorous testing and inspection procedures", he said.
The decision to award the contract to CRRC was criticised on the grounds that the Chinese company benefited from state aid, which enabled it to underbid its rivals. The company's winning bid in Philadelphia was $47m less than the next lowest, Hyundai Rotem of Korea.
A video of the train during a test-drive in Changchun can be seen here.
Further Reading: