A football pitch has been installed in a Rio de Janeiro favela that is lit by electricity generated by footballers playing on it.
The ground, which is located in the Morro da Mineira district, has six LED floodlights linked to 200 "kinetic tiles" buried beneath the Astroturf pitch. These tiles, which are 5cm square and cost $850 each, are able to generate around 7 watts of power every time they are stepped on.
If nobody is playing football, energy can also be generated via solar panels.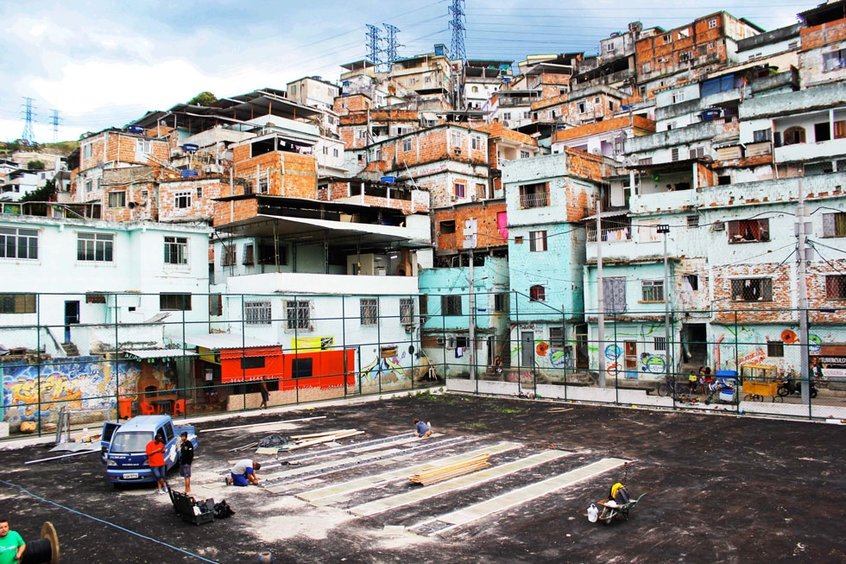 The pitch, which was opened by Brazilian football legend Pelé, is intended to improve the amenities available to residents in the deprived neighbourhood.
The tiles was laid by Pavegen, a UK-based company that has so far laid them in more than 100 locations, including Heathrow airport and London department store Harrods.

Laurence Kemball-Cook, the founder of Pavegen said: "We're using our tiles to give retailers a granular insight into how people are moving."
The current tiles generate power when someone steps on the "hot spot" in their centre, but now Pavegen has created the Mark4, which can create power from the full surface area.

The first Mark4 tiles will be placed outside the White House.
Images via Pavegen