Media and software giant Bloomberg L.P. opened its sophisticated new European headquarters in the heart of the City of London yesterday (pictured).
But despite speaking warm words about the UK capital for reporters on the occasion, American company founder Michael Bloomberg has admitted that if he'd known Brexit was coming, he "maybe wouldn't have" commissioned the block-sized complex, reported to have cost £1bn.
Calling the Brexit vote "the single stupidest thing any country has ever done" bar his own country's election of Donald Trump, Bloomberg, who served three terms as mayor of New York, told a high-profile innovation conference in Boston two weeks ago that "it is really hard to understand why a country that was doing so well wanted to ruin it".
He claimed London would lose its status as the "centre of Europe" and admitted to having doubts about the "expensive buildings" whose sustainable design his company commissioned from renowned architect Foster + Partners back in 2010.

Bloomberg L.P.'s new European headquarters in the City of London, from the air (Bloomberg)
"We are opening a brand new European headquarters in London – two big, expensive buildings," he told the HUBWeek conference on 13 October. "Would I have done it if I knew they were going to drop out? I've had some thoughts that maybe I wouldn't have, but we are there, we are going to be very happy."
Reported by the Financial Times to have cost "as much as £1bn" – Bloomberg has not disclosed the price tag – the 10-storey, dual building complex built by contractor Sir Robert McAlpine occupies a 3.2-acre site near the Bank of England and St. Paul's Cathedral.
It is really hard to understand why a country that was doing so well wanted to ruin it– Michael Bloomberg
Set to accommodate 4,000 employees, it has been dubbed "world's most sustainable office building" by Foster + Partners, whose design was awarded an "Outstanding" rating against the BREEAM sustainability assessment method with a 98.5% score.
In London yesterday Bloomberg, who founded Bloomberg L.P. in 1981, voiced optimism.
"Whatever London and the UK's relationship to the EU proves to be, London's language, timezone, talent, infrastructure and culture all position it to grow as a global capital for years to come," he said, adding: "We are very optimistic about London's future, and we are really excited to be a part of it."
But in Boston he said Brexit would be "very painful".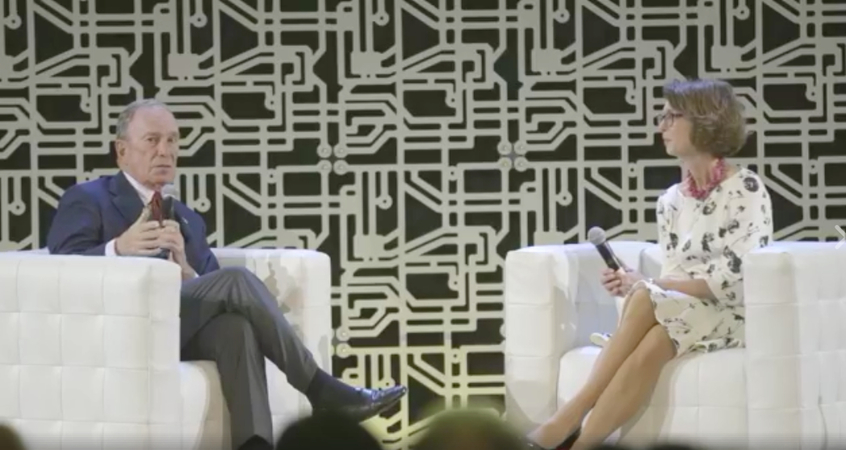 Michael Bloomberg expressing doubts over London and Brexit to Abigail Johnson, chief executive of Fidelity Investments, at HUBWeek, Boston, 13 October 2017 (Facebook)
"It is really hard to understand why a country that was doing so well wanted to ruin it," he told the conference organised by MIT, Harvard University and the Boston Globe. "It was not a smart thing to do and getting out of it is going to be very difficult and is going to be very painful. It will hurt industries. People are already taking space in other cities over there [Europe], us included."
His frank comments in Boston reflected fondness for the UK, mixed with disappointment.
"My former wife was a Brit, my daughters have British passports, so we love England – it's the father of our country, I suppose. But what they are doing is not good and there is no easy way to get out of it because if they don't pay a penalty, everyone else would drop out. So they can't get as good of a deal as they had before."
He added: "I did say that I thought it was the single stupidest thing any country has ever done but then we Trumped it."
Top image: Interior of Bloomberg's City of London HQ (Foster + Partners)