Straw-filled timber panels are gaining a toehold in the UK as a low-carbon, thermal-efficient building component, reports David Smith.
Craig White, director of the Bristol, UK-based company ModCell, is fond of saying that the British brick industry commissioned the tale of the Three Little Pigs just to stigmatise a great building material.
It's a joke, but the intuitive reaction of most people to the idea of building with straw is that it won't take a little huffing and puffing, let alone fire or rain.
However, the ModCell process of prefabricating timber wall-panels packed with straw bales is gaining a toehold in the UK.
This year sees the opening of a 20-home development in Bramley, West Leeds, built with ModCell's panels.
The LILAC development (short for Low Impact Living Affordable Community) is a cooperative of environmentally conscious people who chose to build with straw because of its carbon-reducing properties.
Another significant development was the Nucleus Project at Hayesfield Girls' School, in Bath. The straw-clad building houses new laboratories and classrooms.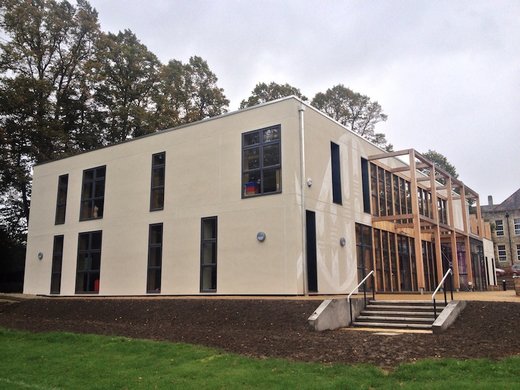 A building for new laboratories and classrooms at Hayesfield Girls' School, Bath, used straw wall panels.
Insulation
Straw is an effective insulation material.
After carrying out extensive tests on straw, un-panelised, Professor Pete Walker, of the University of Bath's Department of Architecture and Civil Engineering, became an enthusiast. He said its thermal conductivity rating (U-value) was 0.07 W/m2K.
"This is a good performance," he said, "although not as strong as some other natural fibre insulation materials, such as sheep's wool or hemp fibre, which achieve readings of around 0.035 to 0.04 W/m2K."
At 0.19 W/m2K, the ModCell panel was less effective than anticipated, but still "very favourable". Straw bales insulate because they are thick – 450-500mm deep.
"Some people might see it as a limitation on building designs, but other forms of wall construction are getting to that thickness, so it's not as excessively thick as it may have appeared 10 years ago," he said.
Prof Walker studied the durability of straw as well, and was impressed.
"If it's kept dry, it won't rot. There are examples of straw being used in earthing construction as an additive to mud bricks, which are thousands of years old," he said.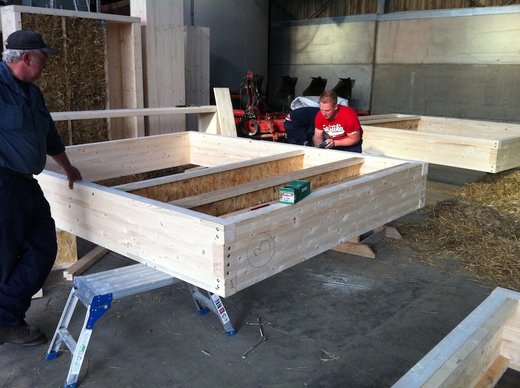 ModCell hopes to automate the manufacture of the timber panels. Currently, they are built by hand.
Nor, it seems, will ModCell buildings spontaneously combust. Prof Walker tested the panels.
"It has remarkably good fire resistance," he said. "The panel was performing adequately as a fire barrier after two and a quarter hours," he said.
"Straw has got a lot going for it as a building material," he concluded. "There aren't really any disadvantages."
The downside
But there are. One thing holding it back is cost. Because the process is not yet industrialised, it's more expensive.
Currently the ModCell technique is a mix of high- and low-tech.
The high-tech part involves drawing a detailed 3D computer model, which instructs computer numeric control (CNC) cutters to cut the wood frames.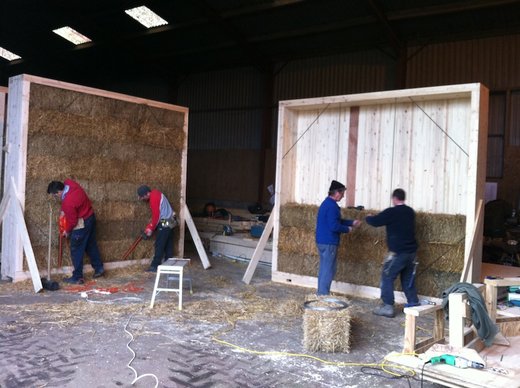 Panels are filled with bales and weatherproofed.
The low-tech part is the fabrication of the panels by hand.
Mr White believes automation will bring the costs down: "The next step will be to automate the process so we can build 500 buildings at once if demand is there. It's about economies of scale."
"We've created prototypes of simple machines that pack the straw into panels, then screw everything together. But to commission the machinery, we need a lot of money from an investor," he said.
Probably the biggest barrier, however, is a lack of certification by mortgage lenders.
In the UK ModCell has already been certified for fire, acoustics and structure, but it has not yet received official certification for applying lime render to straw.
The company is working with Bath University to obtain the European CE marking and expects to do so within 12 months.
Computer Numeric Control (CNC) cutters cut the wood frames according to the building's design.
The LILAC cooperative in Leeds used an architects' certificate from White Design to confirm to the mortgage lender that building regulation requirements were met.
Right now, ModCell is the only British firm specialising in making prefabricated straw panels.
There are companies in Austria and Germany using a similar process, but even on the continent, it remains a niche operation.
For example, in the Swiss Alps, the first hotel made entirely with straw bales was recently built in the little village of Nax Mont-Noble.
"It won't replace all the traditional methods, partly because the panel designs have a certain look and feel which some people love and others hate," said Mr White.
"But we need to reduce carbon and save on energy costs, so I believe the time is coming soon when we will see straw more widely used."