8 January 2014
At least 17 people have died following the collapse of a five-story building under construction in Goa, India.
Authorities suspect that dozens more may be trapped under the rubble but are yet to determine how many workers were on site when the structure collapsed.
Witnesses have reported seeing as many as 60 labourers, Reuters reports.
The building was being constructed in marshland in Canacona, about 70km from Panaji, the capital of Goa state.
Goa chief minister, Manohar Parrikar, said he ordered a review of the construction project after seeing cracks that developed in the adjacent apartment building constructed by the same company, Mumbai-based Bharat Developers and Realtors.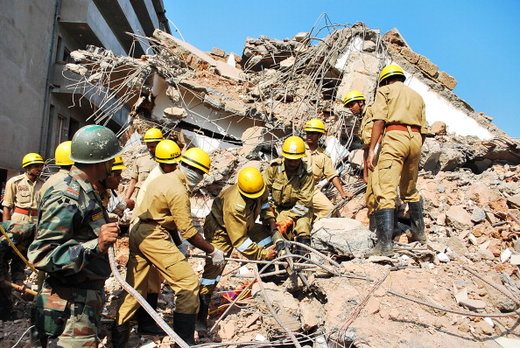 Rescue workers search for victims in the rubble of a collapsed building under construction in Canacona, western Goa state on January 5, 2014. (STR/AFP/Getty Images)
"The design is faulty, which is why the tragedy happened," Mr Parrikar said.
Police have been unable to track down the construction manager and building contractor, reported USA Today.
"Without the contractor, it is impossible for us to know how many labourers were on the shift," said state official Ajit Panchwadkar.
Building collapses are common in India, however, as massive demand for housing and lax regulations often encourage builders to cut corners by using substandard materials or add unauthorized extra floors.