The tiny principality of Monaco has captured six new hectares of precious land from the Mediterranean Sea after a meticulously planned reclamation project led by Bouygues Travaux Publics.
Set to accommodate luxury apartments, parks and a marina, the new land adds about 3% to the 202 hectares comprising Monaco, which is the world's second smallest state after the Vatican (44ha).
To capture the new territory, called Anse du Portier ("Portier Cove"), Bouygues enclosed the ocean space with a curving, half-kilometre-long wall made of huge, specially designed concrete caissons.
Then, teams of divers and fishermen spent three months rescuing fish trapped in the basin using baited traps and reduced-injury hooks to get fish such as groupers over the wall to freedom.
Then Bouygues forced nearly half a million cubic metres of sea water out through a porous, subsea wall with three quarters of a million tonnes of sand shipped from France and Italy.
That operation was due to conclude today, a spokesperson for the developer, SAM l'Anse du Portier, told GCR.
Piling for the buildings to go up on the new bulge of Monaco's coastline has already begun.
Dual-function caissons
Engineering-wise, the stars of the show are the 18 imposing caissons that link together to keep the sea out.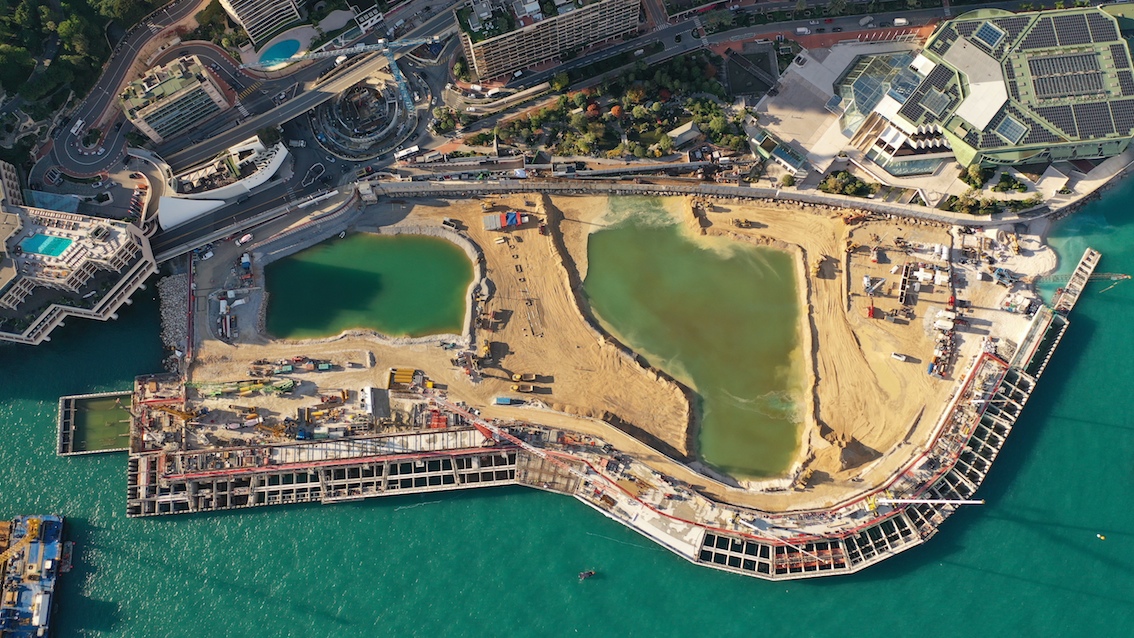 It took just under eight weeks to fill the basin (Photograph courtesy of SAM L'Anse du Portier)
They are trapezoids – four-sided structures with only two sides parallel – and are 26 metres in height, with a typical wall 28 meters wide.
Made from 3,800 cubic metres of concrete, each weighs 10,000 tonnes apiece.
Starting in September 2018, each was cast in the port of Marseille and floated to Monaco – a three day journey, as Bouygues described. 
The final caisson was placed in July this year.
Sitting at a depth of 20 metres on a backfilled ridge made of 1.5 million tonnes of limestone, and they have two crucial jobs.
One is to protect the buildings on Anse du Portier, which will stand in intimate proximity to the sea: just 10 metres away and 6 metres above sea level, according to the project's developer, SAM l'Anse du Portier. 
To do that, the caissons have apertures and Jarlan chambers to absorb the energy of the Med's waves.
The caissons should also do no harm to the delicate ocean ecosystem, especially since Anse du Portier sits between the two marine-life reserves of Spélugues and Larvotto.

The caissons were cast in Marseille and floated one by one to Monaco (Photograph from Bouygues TP)
So, the caissons' façades were given a rough and ridged texture to encourage algae colonisation, and inside the Jarlan chambers are cavities of varying size and depth to give wildlife places to hang out. 
750,000 tonnes of sand
The task of filling in the enclosure started on 14 October, with two ships taking turns to deposit a total of 750,000 tonnes of sand quarried from around Marseille and in the Italian region of Piombino.
Four deliveries came a week, two per ship, 32 deliveries in all. Using a 75-metre-long tilting conveyor belt, each unloading took about 14 hours.
As the basin filled, displaced water percolated out through the limestone backfill ridge, which acted as a filter to keep fine sand particles in.
Now that the six new hectares are in place, ground will be prepared for the new marina and buildings.
According to the developer's timeline, the new district is scheduled to be finished in 2025. 
Top image: Artist's render of the completed Anse du Portier district (With permission from Principauté de Monaco/SAM L'Anse du Portier/Renzo Piano Building Workshop/Valode & Pistre Architectes/Michel Desvigne Paysagiste)