Canadian Prime Minister Stephen Harper has pledged US$245m for the Thirty Metre Telescope (TMT), an international project to build one of the world's largest and most advanced astronomical observatories in Hawaii. 
The project has already received funding from the US, Japan, India and China, however Canada left TMT funding out of its federal budget last year. 
The $1.5bn project broke ground last year but has faced delays owing to protests from locals who claim the site occupies sacred ground. 
Many natives consider the Mauna Kea mountain to be holy, and ancient Hawaiian law allows only high-ranking tribal chiefs to visit its peak. However, the TMT will be the fifth telescope to be located there.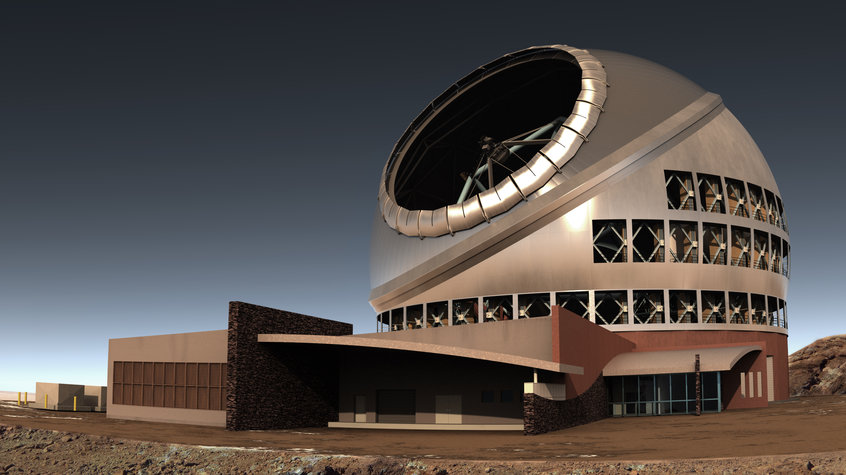 An artist's illustration of the Thirty Metre Telescope (TMT) atop the volcanic peak of Mauna Kea in Hawaii (TMT)
The location is considered ideal for astronomical observations because the lack of light or air pollution. 
The TMT's mirror will be three times larger than the world's most powerful telescope and will occupy an area similar in size to a basketball court. 
Canadian company Empire Dynamic Structures designed the telescope's enclosure and would have had to pass their plans on to another company if the project had not received funding from Ottawa. 
Harper said: "It was a pleasure today to announce the government's support for the TMT project. This revolutionary facility has the potential to transform astronomers' understanding of the universe."
An artist's illustration of the Thirty Metre Telescope (TMT) atop the volcanic peak of Mauna Kea in Hawaii (TMT)
Many local "protectors" have been arrested close to the building site this week. Construction has been halted temporarily.  A meeting is taking place this month to proceed with construction. 
Images via TMT