A new survey of construction professionals around the world paints a picture of a global industry hit hard by coronavirus.
Nearly 70% of respondents said a quarter or more of their organisation's projected revenue this year had been jeopardised.
Twenty percent said more than half of planned projects had been delayed or cancelled.
Nearly 40% said staff were being asked to take pay cuts, while lay-offs were occurring among employers of nearly a quarter of respondents.
More than 10% did not expect their company to survive.
On a personal level, more than 10% said they had serious short-term money worries, and more than a third were not sure they could manage beyond the next three months.
About the survey
Running 4-18 May, the online survey was conducted by the Chartered Institute of Building (CIOB) in partnership with GCR to gauge the financial, operational and personal impacts of Covid-19 on the global industry.
The data presented here excludes responses from the UK, where the impact of the pandemic was explored in a survey by GCR's sister title, Construction Manager. 
We heard from 210 construction professionals, with most responses coming from Ireland, United Arab Emirates (UAE), Qatar, South Africa, China, Australia, Saudi Arabia, Singapore, Canada, Malaysia and the US.
Most respondents worked for larger companies. Nearly half (48.8%) worked for companies employing more than 500 people. Of those, 37.3% worked for companies employing more than 1,000 people.
In terms of employer organisation, most (37.4%) were main contractors. The main types of other employers were project manager/QS (14.2%), public-sector client (10.9%), consulting engineer (10.4%), private-sector client (9%), and specialist contractor (5.7%).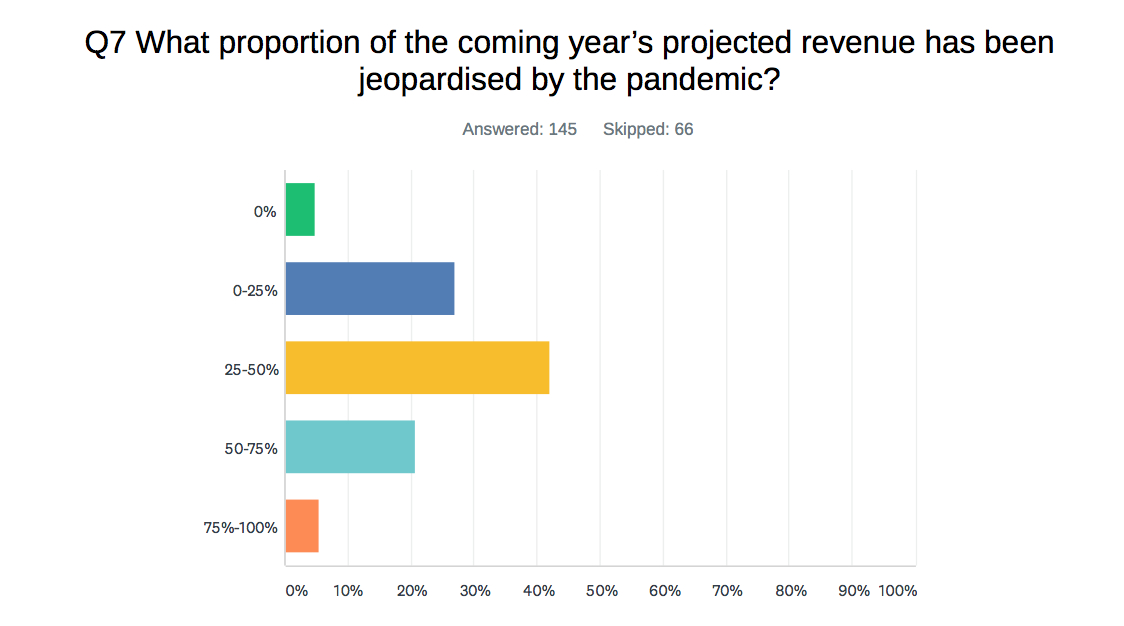 Financial impact
Most respondents expected their employers' finances to be hit by the pandemic, some significantly.
Nearly 70% of respondents (68.5%) said 25% or more of the coming year's projected revenue has been jeopardised. Of those, 42% said 20-50% of revenue would be jeopardised; just under 21% said 50-75% of revenue would be jeopardised; and 5.5% said 75-100% would be jeopardised.
The cancellation or delay of planned projects is a worry for most, and a severe concern for some. Asked what percentage of projects not yet begun had been cancelled or delayed, 22.8% said none, but 38.9% said up to a quarter of projects had been cancelled or delayed. Just over 18% said 25-50% of projects had been cancelled or delayed.
Significant numbers reported more profound disruptions: 10.7% said 50-75% of planned projects had been cancelled or delayed and 9% said 75-100% of projects had been thus affected.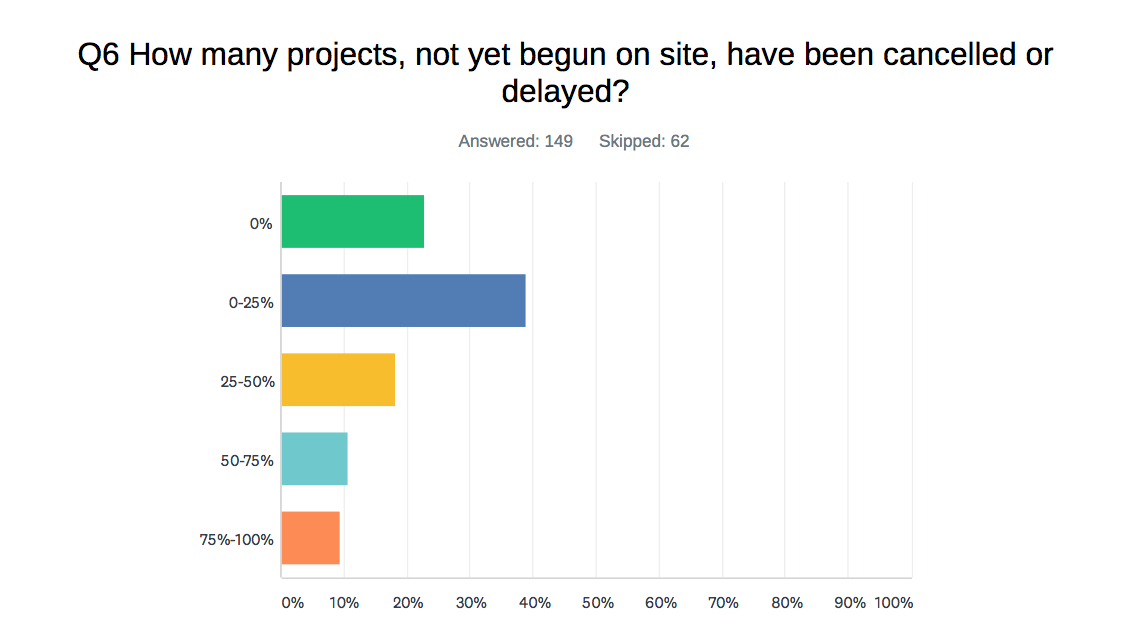 Most organisations are trying to keep employees on. Just under half of respondents (49.8%) said all staff were being paid as normal. However, 39.7% said staff were being asked to take pay cuts.
Lay-offs were occurring among employers of 23% of respondents. Voluntary unpaid leave (19%), furloughing (12.4%), and wage deferment (7.7%) were minority approaches.
Despite clear challenges, nearly 90% of respondents (89.05%) said they thought their company would survive. Just under 11% (10.95%) expected that their company would not.
However, there is significant worry over personal finances. Nearly 10.5% said they had "serious short-term financial worries"; 35.2% said they were worried about managing beyond the next three months. Most, 54.3%, said they could manage for the foreseeable future.
Operational impact
More than a quarter of respondents (28.4%) said all their sites had closed. Around a third, 33.2% said all their sites remained open. Some 38.4% said some sites closed while others remained open.
The most cited reason for keeping sites open was the employer organisation saying that adequate health and safety protocols could be followed. This was cited by 47.3% of respondents. The next most cited reason (44%) was that the project concerned critical national infrastructure such as energy or transport.
"Our organisation says it is in the financial interest of employees and suppliers" was the reason cited by 24% of respondents, and 20% of respondents said projects continued because they were related to public services such as healthcare.
Respondents were invited to give other reasons for sites staying open. Common themes here were commercial pressure, government encouragement, and the threat of penalties if work stopped.
Naturally, government policy influenced the closure or continuation of construction projects. Some 28% of respondents said their government's policy had been for all sites to close. Most of the remainder said their governments allowed some site to stay open (36%), or all sites to stay open (29%).
A broad range of project types continued. Infrastructure and public services topped the table (60% and 48% of respondents, respectively), but private commercial projects (43.7%) and private housing projects (27%) were also identified.
Respondents recorded high levels of adopting new coronavirus safety protocols on site. Most cited was "hand washing facilities at entrance and on site" (77.5%) and "social distancing between workers on site" (73.5%).
Enhanced cleaning of site facilities, self-isolation for workers who fall ill, social distancing in journeys to site, and employer guidance on new protocols all scored in the 67-73% range.
Least taken up was "restricting or staggering access to site welfare facilities", cited by 51% of respondents.
Labour relations
Respondents were somewhat muted when asked about labour relations. Just under half (49%) said workers were happy to continue working. Slightly more (49.7%) said health concerns had prompted some workers to self-isolate. Just under 20% (19.9%) said they had had labour relations difficulties amid the pandemic.
Asked for further comment, a number of respondents voiced reservations, particularly in Qatar.
"It is a government initiative to work, otherwise workers are unhappy," said a respondent who works for a large consulting engineer there.
Also in Qatar, a public-sector client employee said: "Workers are not happy about sites staying open since several workers are already got infected the COVID19 virus."
Again in Qatar, a respondent who works for a large public client said: "Workers in Middle East have sponsors, which is normally the contractor, so they have no other option but to work. However, the Health Ministry put regulations to be followed and they are monitoring."
In the UAE, an employee of a large project management firm commented that "working on international sites there has been issues communicating the importance of the restrictions that have been put in place. There has been a growing concern from site based staff/employees regarding close contact and spread of the virus due to some not following guidance regarding distance and PPE."
Government support
Asked how government policies have supported the construction industry in respondents' countries, the issuing of clear guidance on site operating procedures was cited most, by 64.3% of respondents.
Financial support through loans and tax relief was cited by 33%, and testing for the virus among construction workers was cited by 31%.
Some 23% said government support had been poor.
Selfless acts
Respondents registered significant levels of charitable activism by themselves or their employers, with 42.9% volunteering to support key workers; 34.3% volunteering to support vulnerable people in their communities; and 26.3% donating PPE or other essentials to public services.
A respondent employed by a large main contractor in the US reported his company supporting a fund set up to help school children and their families buy food. An employee of a Canadian electrical contractor said they had developed an online design resource for temporary emergency healthcare facilities.
"No," said an employee of a consulting engineer in South Africa, "my organisation did not volunteer, it's struggling, but the construction industry has set up a Covid 19 Rapid Response Task Team which will look at how the industry can recover after this pandemic."
Top image courtesy of Macau Photo Agency/Unsplash