Caterpillar, the world's largest maker of heavy construction machinery, has announced that it is ready to move into Cuba as soon as the 56-year-old US trade embargo is lifted.
Reeling from a sharp drop in sales this year – not helped by a market in Brazil that it says has "basically tanked" – the US firm has its eyes on comprehensive road renewal and major planned infrastructure schemes in the Communist state.
The company's chief executive, Doug Oberhelman (pictured), visited the island last week for meetings with Cuban ministers in Havana.
"We believe in the power of engagement, and our goal is to be both a business and cultural partner in Cuba for many years to come," he said in statement.
The company has warm relations with Cuba's Communist government, and has long been a lobbyist against the US blockade.
"For nearly 20 years, Caterpillar has called for an end to the unilateral embargo," Oberhelman said. "Our visit this week lays important groundwork for Caterpillar and Rimco [the company's dealer] to serve the Cuban market once remaining trade restrictions are lifted. We are grateful for the courteous and warm reception we have received."
Everybody focuses on the 60-year-old cars, but we focus on the 60-year-old roads– Bill Lane, Caterpillar
Under President Barack Obama relations between Cuba and the US have thawed dramatically since 2014 with the reestablishment of diplomatic relations and the loosening of travel restrictions, but the decision to end the trade embargo lies with the US Congress. In March, Obama added his voice to calls for Congress to lift it.
With its population of just over 11 million – greater than Austria – Cuba's construction market has major potential as the island prepares to make up for decades of restricted economic growth and underinvestment in infrastructure.
Up until now much of the activity has been in the hospitality sector as the Cuban state and its partners in the private sector prepare for a surge in tourism.
But widespread road renewal would be the big opportunity for the maker of backhoes, bulldozers and other heavy plant.
"Everybody focuses on the 60-year-old cars that are on the streets, but we focus on the 60-year-old roads they are being driven on. That's where we see our opportunity," said Bill Lane, Caterpillar's director of global government affairs, last year.
Another project of keen interest to Caterpillar is the port planned for the harbour of Mariel, west of Havana. Intended as a logistics hub for the entire Caribbean region, Mariel is a cornerstone of Cuba's future economic blueprint.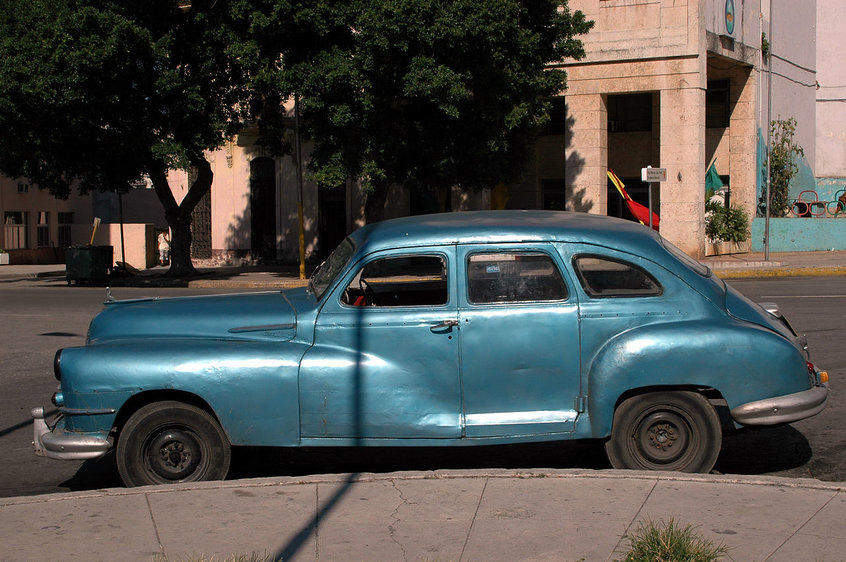 Cut off from American imports, Cubans became famous for nursing along their cars, such as this 1940s-era Chevrolet (Gorupdebesanez/Wikimedia Commons)
The company's move on Cuba comes as it releases first quarter results showing weakening global demand for its products.Turnover dropped 26% to $9.5bn, and earnings fell 77% to 46 cents a share. It said its projected revenue for 2016 would be be 38% lower than its 2012 high of $66bn.
One cause of the fall was a collapse in demand in Latin American, where sales were 43% lower. This is blamed on the chaos and deep recession in Brazil, where the mining industry – also a big customer for Caterpillar's machinery – has been hit by slowing growth in China's manufacturing sector and political turmoil.
Bradley Halverson, Caterpillar's chief financial officer, told the Financial Times: "The Brazilian market has been important for us for a long time. We're really not seeing anything positive happening in Brazil – our business has basically tanked. Fiscal reforms are needed urgently … and more co-operation from the [political] parties."
If and when the Cuban embargo is lifted by the US Congress, Caterpillar is planning to supply the market with equipment from its Brazilian operations.
The company also announced last month that five US factories would close, and 820 jobs would be cut as part of a plan to reduce costs by $1.5bn. This may involve closing as many as 20 manufacturing plants by 2018.
Caterpillar has 114,000 employees around the world.