8 April 2013
SNC-Lavalin, the scandal-plagued Canadian global engineering giant, continued its board renewal process last week with the surprise announcement that four of its board members, including its chairman, will retire.
Chairman Gwyn Morgan will retire earlier than expected at the company's annual shareholder meeting on 2 May, along with fellow directors David Goldman, Pierre Lessard and Edythe Marcoux.
The new chairman will be Ian Bourne, a director of SNC-Lavalin since 2009 and currently board vice-chair.
The three other new director nominees are Jacques Bougie, Lise Lachapelle and Alain Rhéaume.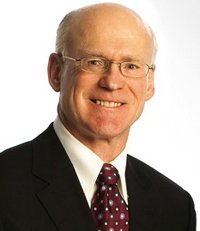 Gwyn Morgan
The announcement came a day after the company revealed it had hired a new chief financial officer, Alain-Pierre Raynaud, to replace former CFO Gilles Laramée.
"The goal of this ongoing process is to recruit highly qualified, dedicated and independent candidates who possess the reputation, experience and expertise to adapt to the evolving needs of the Company and its shareholders," said Bourne and Morgan in a joint statement.