The $40bn project to build an LNG plant in British Colombia has suffered a blow after Chevron said it was putting its 50% stake in the scheme up for sale.
The news came in the Californian oil giant's budget statement for 2020, published on Tuesday. It said the company planned to "exit" its entire working interest in the plant, which is being built on First Nations land near the town of Kitimat, about 600km north of Vancouver.
The statement said it was part of Chevron's "global portfolio optimisation effort".
"Although Kitimat LNG is a globally competitive LNG project, the strength of Chevron Corporation's global portfolio of investment opportunities is such that the Kitimat LNG Project will not be funded by Chevron and may be of higher value to another company," it said.
Chevron was to develop the scheme during its construction phase, and operate it upon completion.
The company said it would work closely with its partner, Woodside Petroleum, the Australian LNG company that owns the other half of the project, and with Haisla Nation stakeholders during the sale process.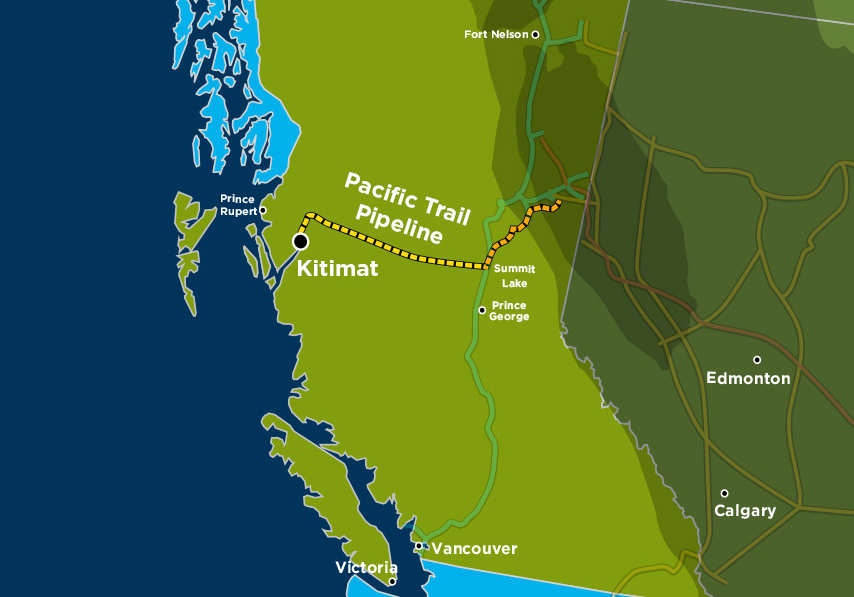 Chevron's graphic of the project
The scheme's total investment value of $40bn made it an unusually large project even in the LNG world. It included the development of up to 650 trillion cubic feet of natural shale gas the Liard and Horn River Basins in the north-east of the province, the 471km Pacific Trail Pipeline and the liquefaction plant at Bish Cove near Kitimat. The plant includes up to three LNG trains with a total capacity of 18 million tonnes per annum.
The plant will be owned by LNG Canada Development, with the main shareholders being Shell (40%), Petronas (25%), PetroChina (15%), Mitsubishi (15%) and the Korea Gas Corporation (5%).
Jeremy McCrea, an industry analyst at Florida-based investment bank Raymond James, commented to Canada's Financial Post that Chevron's decision may be "tempering enthusiasm" for the scheme.
He said: "To see them potentially take the writedown on their gas reserves and make the comments they did is a bit of a reversal from what we've seen from them", adding that it may reflect doubt about the global outlook for LNG prices.
They have been falling for five weeks in the Asian markets, a worrying development for the industry ahead of the high-demand winter season, and an indication of oversupply in the market.
A report issued yesterday by Texan investment bank Tudor Pickering Holt & Co said Chevron had thrown "cold water on the Canadian gas macro".
Tuesday's budget statement also announced that Chevron would write down the value of its oil assets in Gulf of Mexico and shale gas in Appalachia by up to $11bn this quarter.
The EPC contractor for the project is a joint venture between Japan's JGC and US engineer Fluor. Work on site is expected to get under way in earnest in the second half of 2020.  
Image: The town of Kitimat with the Douglas Channel in the background (District of Kitimat/CC BY-SA 4.0) [https://creativecommons.org/licenses/by-sa/4.0/]
Further reading