Chicago broke ground last week on a meandering elevated running track to regenerate the city's lakefront amid a spate of violent crime.
The path will let walkers, joggers and cyclists get to softball fields, fitness centres and other recreational facilities in the city centre.
The "312 RiverRun" is part of an $800m programme of works to regenerate the city following a slew of publicity about gang-related homicides and other crime.
Mayor Rahm Emanuel said the path would "create an unparalleled network of outdoor recreational opportunities".
The project will begin with the construction of the 330m-long Riverview Bridge, which is expected to complete by the end of 2018. This is will be built by the Illinois Constructors Corp to a design by local multidisciplinary engineer Epstein Global. If all goes according to plan, the bridge will "reintroduce the river to thousands of Chicago residents", as Epstein put it.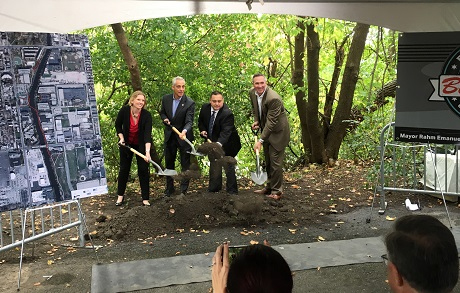 Spade-wielding politicians at the official opening of the project last week (Office of the Chicago Mayor)
The second phase will be the replacement of the 95-year-old Irving Park Road Bridge and the building of the elevated path. Work on this is due to begin next year and be complete in late 2019. This will create a pedestrian route under Irving Park Road and link California Park to Horner Park north. 
The regeneration scheme is a collaboration between the departments of transportation, planning and development and the Chicago Park District, with support from numerous federal agencies, such as the Highway Administration, the Corps of Engineers and the Coast Guard.
Murders and attempted murders in the city have reached a sufficiently high level to trigger articles in the world's press.
Over the 4 July long weekend, for example, 101 people were shot, compared with 66 over the same weekend in 2016, and the number of murders from all causes is higher than the whole of the UK. 
Image: The running track proposed for north-central Chicago (Epstein)
Further reading