China Communications Construction Company (CCCC) is preparing to bid on a $1.4bn bridge project in Brazil, according to reports in the local press.
Reports say the company plans to submit a joint bid with the China Railway Construction Corporation, if the two sides can agree terms.
The bridge would be located in the state of Bahia in the east of the country, and would connect the mainland with the city of Vera Cruz on the island of Itaparica, according to Brazilian business paper Valor Econômico.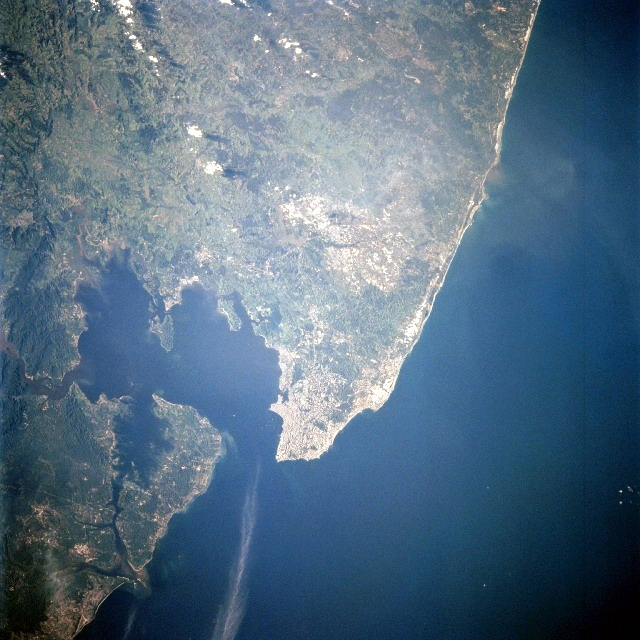 Nasa's satellite image of the bay
The 12.4km bridge, which has been under discussion since the 1960s, would be developed as a public-private partnership, with the winner receiving $320m from the state of Bahia, and charging a toll for 35 years. It would help economic development on the island, and would avoid the need to use a ferry or make a four-hour drive to circumvent the bay separating the cities.
The project is still in the public consultation phase and a call for bids has not been issued.
CCCC has already established itself in Brazil, buying contractor Concremat at the end of 2016 and undertaking the construction of a port in in São Luís in the northern state of Maranhão.
Reuters reports that CCCC is also considering a bid on the East-West Railroad Integration (Fiol) and the Ferrograo railway projects, which the federal government plans to tender as PPP contracts.
Fiol would transport grains and minerals from Brazil's interior to the port of Ilheus in Bahia, and Ferrograo would follow the course of key grain highway BR-163 and allow for shipments to ports in the north.
Image: All Saints Bay in Salvador (Secom Bahia/CC BY 2.0)
Further reading